What Digital Camera December 2012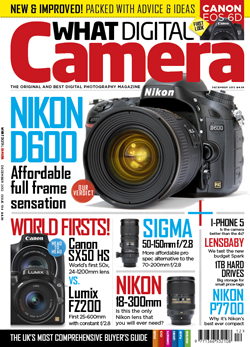 On sale: Fri, 26 Oct 2012
FEATURES:

Nikon D600
Read why Nikon's latest full-frame DSLR may be the camera that enthusiasts have been waiting for

Starting out in Macro
Part two of our guide to Macro lens and flash options

Head to Head
The Canon SX50 HS and Panasonic FZ200 face off in a clash of superzoom bridge cameras

Essential Guide to... camera triggers
A complete guide to cable and remote releases

Reader Day
See how our selection of WDC readers got on with a range of Panasonic Micro Four Thirds lenses

TRIED AND TESTED:

Nikon 18-300mm
Is this the only Nikon lens you'll ever need?

Sigma 50-150mm
Tele-zoom available across a range of mounts

Olympus 75-300mm
Ultra-long tele-zoom for Micro Four Thirds users

Nikon P7700
Why Nikon's latest advanced compact is one of its best yet

Fujifilm F800EXR
Compact offering a 20x optical zoom and Wi-fi

Compacts
Four more new compacts reviewed

Portable hard drives
We round-up the best six 1TB portable hard drives

Plus much much more!!