What Digital Camera November 2012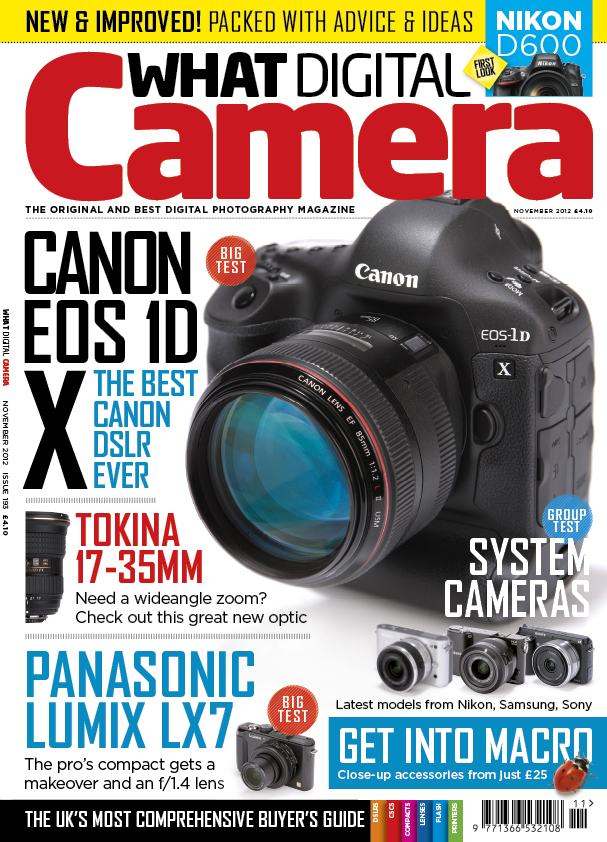 On sale: Fri, 28 Sep 2012
FEATURES:

Starting out in Macro
Find out the must-have gear you need to start shooting stunning close-up images

Group Test
Compact System Cameras: We put the Nikon J2 up against the Sony NEX-F3 and Samsung NX1000

Essential Guide to Wideangle Lenses
Everything you need to know about buying a wideangle lens

TRIED AND TESTED:

Canon EOS-1D X
Canon's top-of-the-range full-frame DSLR is given a thorough workout in our full, in-depth review. How good is it?

Panasonic Lumix LX7
The latest enthusiast compact camera from Panasonic is given a thorough test

Tokina 17-35mm
How good is this Tokina wideangle zoom lens?

Pentax 100mm
All-weather Macro lens for Pentax users tested

Pentax 50-135mm
Fast telephoto zoom lens put to the test

Accessories
Lowepro Pro Messenger bag reviewed, plus much more kit

Canon MG6250
We put the latest Canon multi-functional A4 printer through its paces

Tripods under £150
We round-up the best six tripods under £150

Compacts reviewed
Including the Samsung EX2F, Canon SX500IS and Sony WX100

REGULARS:

Opening Shot
Dan Chung's London 2012 Olympic iPhone images and more

Live View
All the latest kit revealed

Why I Love...
Matt Osborne on why he loves his Samyang 85mm optic

Help!
All your kit-buying problems solved, plus much more

Secondhand Classic
Is the Nikon D80 still worth considering?

My Digital Camera
Readers' pictures

Comment
Get something off your chest

In the Bag
Inside Geoff Waugh's kit bag

Competition
You could be the lucky winner of the popular new Nikon D3200 DSLR camera with 18-55mm lens, worth £649, plus accessories worth over £130!