What Digital Camera October 2012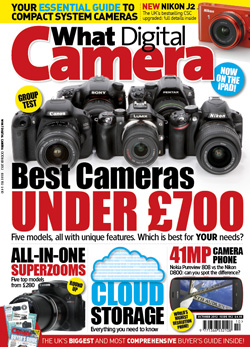 On sale: Fri, 31 Aug 2012
EQUIPMENT REVIEWS:

Best cameras under £700
We pitch five of the top models against each other: Canon EOS 600, Nikon D3200, Panasoinc G5, Pentax K-30 and Sony A57

Nokia 808 Pureview
We take a closer look at what is arguably the most advanced cameraphone around and pit it against the Nikon D800 and Fuji X10

Bridge camera round-up
Five models compared that have a starting street price of just £280. We round up the Fuji HS30 EXR, Canon PowerShot SX40 HS, Nikon Coolpix P510, Sony HX200V and Panasonic FZ62

Accessories
We try out some of the latest photography accessories: Crumpler Jackpack Half Photo System backpack, Datacolor Spyder Cube, Capture Camera Clip system, Gitzo Systematic GT5562LTS tripod, Kata Revolver-8 PL backpack, Vanguard BBH-200 ball head, Nik HDR Efex Pro2 software, and the Hahnel Tuff TTL wireless flash trigger

Save or Splurge: Pentax Tele-zooms
The Pentax SMC DA 55-300mm f/4-5.8 ED compared to the SMC DA 60-250mm f/4 ED (IF) SDM

Tamron SP 24-70mm f/2.8 DI VC USD
Is this third-party optic a worthy alternative to own-brand options?

Panasonic Lumix G X Vario 12-35mm f/2.8 HD MEGA OIS
Pro quality wideangle zoom with set f/2.8 aperture

Olympus Tough TG-1
The latest high-spec rugged Olympus compact is put through its paces

Compact camera reviews
The Fujifilm Z110, Fujifilm F660EXR and Panasonic SZ5 all reviewed

Fujifilm Finepix SL300
Bridge camera technology with a 30x zoom at an affordable price

Media and apps
We take a look at the latest books and apps on the market


FEATURES:

Fujifilm X-Pro1 Field Test
Photo pro Damien Lovegrove puts the X-Pro 1 through its paces

Compact System Cameras explained
An essential guide to the hottest market in digital photography

Cloud storage
An investigation into what may be the future of image back-up

REGULARS

LIVE VIEW
Details of Nikon's latest CSC model – the all-new J2

Opening Shot
Getty Images' Dean Mouhtaropoulos's Olympic Velodrome shot

Help File!
Kit-buying advice and your imaging problems answered

My Digital Camera
Two readers share some of their best images

THE BUYER'S GUIDE
If you're looking to buy some new kit, check out the facts here

COMPETITION
Your chance to win over £800 worth of National Geographic photo bags!

AND MUCH MORE!