What Digital Camera August 2012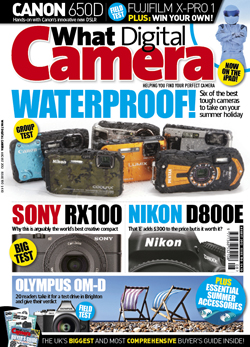 On sale: Fri, 6 Jul 2012
EQUIPMENT TESTS:

NIKON D800E
Exactly what is the difference compared to the D800?

Waterproof cameras - Group Test
Six waterproof cameras dive into our group test

Sony RX100
Sony's enthusiast RX100 gets its impressive spec fully tested

A3 printers under £500
Impressively-specified Epson and Canon A3 printers reviewed

Sony tele-zoom lens comparison
The Sony 70-300mm and 75-300mm are similar on paper but priced very differently; read our review to see why

Nikon 18-105mm f/3.5-5.6G ED-IF AF-S VR DX
A capable focal range and the benefit of Vibration Reduction

Pentax SMC DA* 200mm f/2.8 ED (IF) SDM
This fast-aperture prime lens gets a grilling

Panasonic Lumix TZ25
Is the TZ series still the best choice for the travelling photographer?

Sony HX20V
Superzoom superstar? We take a closer look at this pocketable compact


FEATURES:

Olympus OM-D Reader Day
We take 20 readers down to Brighton with the latest CSC camera from Olympus

Essential Summer Accessories
We've chosen some great photo kit ideas to get you all set for your holidays

FIELD TEST: Fujifilm X-PRO 1
Top Gear photographer Justin Leighton checks out the excellent Fuji X-Pro 1

REGULARS:

Live View
Canon's latest EOS 650D, plus lenses from Nikon and Sigma

Letters
Your views and also what you can expect next month

Opening Shot
This month Jason Hawkes captures the Olympic Park

Help File!
Kit-buying advice and your imaging problems answered

My Digital Camera
Two readers share some of their best images

Evening Class
Photoshop guru Martin Evening critiques reader photos

THE BUYING GUIDE
If you're looking to buy some new kit, check out the facts here in our 20 pages of listings

Competition
Your chance to win a Sigma DP1x worth over £600!