What Digital Camera June 2012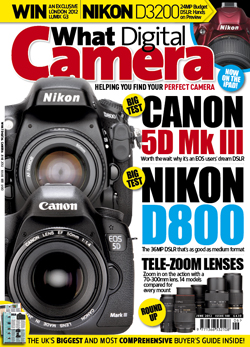 On sale: Fri, 11 May 2012
EQUIPMENT REVIEWS:

Canon EOS 5D Mk III
Canon's latest full frame DSLR is put through its paces

Nikon D800
One of the most eagerly anticipated DSLRs of recent years has arrived, but does it have the performance to warrant the hype?

Sony A57
Find out how Sony's latest SLT camera performs in our full review

Tokina 11-16mm
Is this wideangle zoom from Tokina your next lens purchase?

Fujifilm Finepix HS30 EXR
With a 30x optical zoom, the HS30 EXR offers much promise

Nikon P510
A whopping 42x optical zoom is sure to turn heads

Nikon P310
An advanced compact featuring full manual control

iPad
Apple's latest iPad put through its paces. Is it worthy of the upgrade?

Accessories
We try out some of the latest photography accessories

Plus we review a host of compact camera reviews for every budget, tested and rated!

FEATURES:

Tele-zoom lenses round-up
With the Olympics rapidly approaching, the chances are you?re going to be in the market for a new tele-zoom lens to get closer to the action. We take a look at a wide range of options to try to work out which one should be on your wish list

REGULARS:

Live View
Nikon D3200, Samsung trio and Panasonic GF5 all detailed

Letters
Your views and also what you can expect next month

Opening Shot
Some of the best images from this year's TPOTY competition

Help file!
Kit-buying advice and your imaging problems answered

My Digital Camera
Two readers share some of their best images

Evening Class
Photoshop guru Martin Evening critiques four readers' photos

THE BUYER'S GUIDE
If you're looking to buy some new kit, check out the facts here

COMPETITION
Your chance to win a limited-edition Panasonic G3 specially created for the Olympics!