What Digital Camera May 2012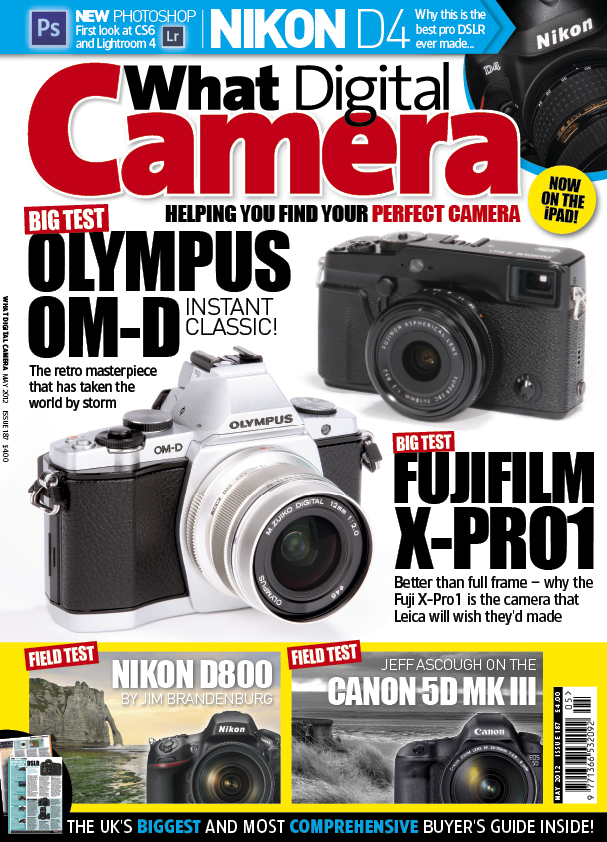 On sale: Fri, 13 Apr 2012
EQUIPMENT REVIEWS:

Olympus OM-D E-M5
We test this new model to find out whether it is a worthy successor to the famous Olympus 35mm OM SLR range

Fujifilm X-Pro 1
The latest interchangeable-lens camera from Fujifilm features new imaging technology which looks set to redefine image quality as we know it

Adobe Lightroom 4 and Photoshop CS6
We get to grips with Adobe's pair of flagship imaging software suites

Nikon D4
The latest full-frame DSLR from Nikon promises to be one of the best DSLRs ever tested. However, does it deliver on this promise?

Tamron 18-200mm NEX fit
We put Tamron's latest NEX series lens through its paces

Nikon 85mm f/1.8G
Is this fast prime from Nikon the next lens for you?

Accessories
The Heralder 38 bag from Vanguard, a Hedler studio light and a Western Digital hard drive

Panasonic TZ30
How does Panasonic's latest travel compact shape up?

Compact camera reviews
We test the Nikon L25, Nikon S2600, Olympus SH-21, Olympus VG-170, Olympus SZ-14, Panasonic Lumix SZ7, Lumix SZ1, and the Canon IXUS 500HS

Panasonic FT4
A lifeproof compact that promises excellent image quality to boot

FEATURES:

Canon EOS 5D Mk III - Field Test
Renowned professional photographer Jeff Ascough puts Canon's latest full-frame shooter through its paces

Nikon D800 - Field Test
Top nature photographer Jim Brandenburg spent a month with the Nikon D800. Read what he has to say about this in-demand DSLR

REGULARS:

Live View
With a First Look at the Sony A57, hands-on with the Nokia Pureview 808 smartphone, news of a new iPad, plus we showcase the winning 'Winter' image of our Flickr Competition

Letters
Your views and also what you can expect next month

Opening Shot
We present some of the best images from the 2012 International Garden Photographer of the Year (IGPOTY) competition. Find out the kit used for award-winning images

Help File!
Kit-buying advice and your imaging problems answered

My Digital Camera
One reader discusses his love of prime lenses

Evening Class
More of your photos are assessed by Photoshop guru Martin Evening

The Buyer's Guide
If you're looking to buy some new kit, check out the facts here, in our 20 pages of listings and advice

COMPETITION
Your chance to win Vertus Fluid Mask software or an STM laptop sleeve!