What Digital Camera January 2012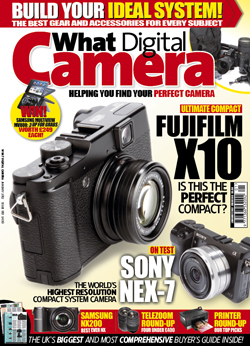 On sale: Fri, 23 Dec 2011
FEATURES

Build your own camera system
Buying a DSLR or Compact System Camera is just the start. There are a wealth of lenses and accessories out there to help you get the pictures you want. We take you through the options

EQUIPMENT TESTS

Sony NEX-7
With a resolution of 24.3MP and a price tag of £1,129 with a lens, the latest Compact System Camera from Sony is put through its paces

Fujifilm X10
After the success of the X100, has Fujifilm succeeded again with the smaller X10? We find out...

Samsung NX200
The 20.3MP NX200 offers a lot for your cash. We put it to the WDC test

Printer Round-up
From small portable printers to large A3+ models, we test 10 models to suit every budget

Budget telephoto zoom lenses
Low-cost tele-zooms group test: we review the Canon 55-250mm, Nikon 55-300mm, Sigma 70-300mm & Tamron 70-300mm

Olympus 12mm f/2
Is this the sharpest lens for a Compact System Camera?

Compact camera reviews
The Fuji S2950, Samsung ST96, Nikon S6200 and Panasonic FX90 reviewed

Fujifilm F600 EXR
15x zoom lens in a travel-friendly body

Apple iPhone 4S
Is it time to retire the compact camera for good?

REGULARS

Live View
The latest photo gear and comment, including the Fuji X-S1

Opening Shot
Stunning images from the Wildlife Photographer of the Year awards

Help File!
Kit-buying advice and your imaging problems answered

Evening Class
More of your photos are assessed by Photoshop guru Martin Evening

My Digital Camera
Two more readers show us their work and the cameras they use

Buying Guide
If you are after some new kit, check out the facts here in our comprehensive buying guide

COMPETITION
Your chance to win a Samsung MultiView MV800 camera worth £249!