What Digital Camera December 2011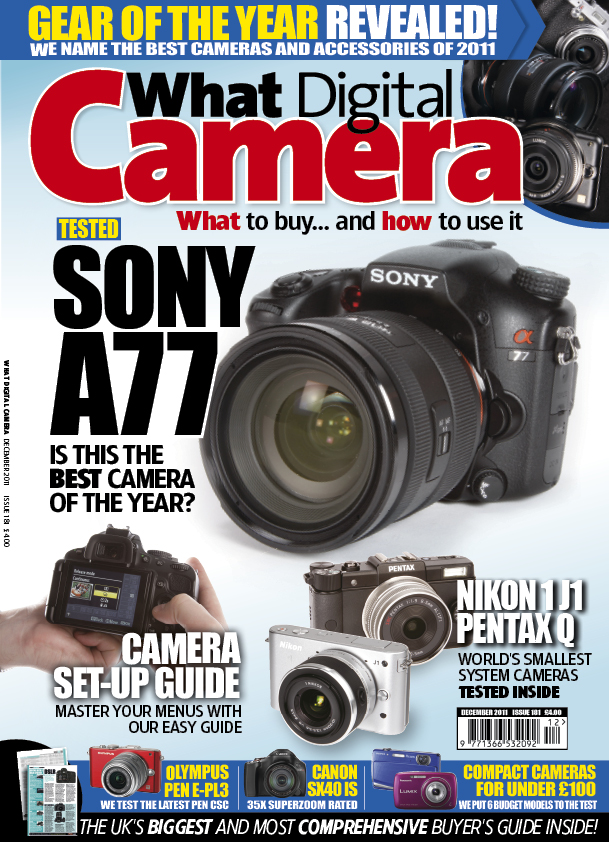 On sale: Fri, 28 Oct 2011
FEATURES

WDC AWARDS 2011: Gear of the Year
We name the very best cameras and accessories of 2011. Which ones have triumphed?

Get to Grips with: Setting-up your camera
In our latest instalment, we show you how to correctly set up your camera and explain how the various modes work. help you

Books of the Year
Read our essential round-up of the best books of 2O11

EQUIPMENT REVIEWS

Sony Alpha 77
We put Sony's top-of-the-range 24MP SLT through its paces to see if it is a match for the Canon and Nikon enthusiast DSLRs

Nikon 1 J1
The J1 is the first camera from Nikon's new 1 series system camera range

Pentax Q
The smallest system camera available. Does the small size mean image quality suffers?

£100 compacts round-up
Does a compact camera under £100 make a good present for children and teenagers? We put these six to the test - Nikon L23, Olympus VG-130, Panasonic Lumix S3, Fuji Z90, Samsung ST95, Canon A3200IS

Nikon P7100
Advanced compact with manual control: we find out whether it improves on the P7000

Olympus PEN Lite E-PL3
Metal-bodied superfast Compact System Camera

Canon SX40 HS
This could be the best superzoom PowerShot camera to date

Nikon S8200
A point & shoot 16MP compact with 14x zoom lens

Compact camera reviews
The Fuji T200, Canon IXUS 1100HS, Samsung ST6500 and Panasonic FS35 reviewed

Lens reviews
We test the Sigma 105mm f/2.8 macro lens, and the budget-priced Nikon 40mm f/2.8 macro lens

REGULARS

Live View
The latest photo gear and comment, including the Fuji X10 First Look and the Nikon J1 and V1 interchangeable-lens system cameras

Opening Shot
A stunning image from the UK Picture Editors Guild Awards 2011

Help File!
Kit-buying advice and your imaging problems answered

My Digital Camera
Two more readers show us their work and the cameras they use

Evening Class
More of your photos are assessed by Photoshop guru Martin Evening

The Buying Guide
Comprehensive listing of cameras, lenses, software and more, with buying advice too. If you are looking to buy some new kit, check out the facts here

Competition
Your chance to win a Vanguard tripod worth £599!