What Digital Camera November 2011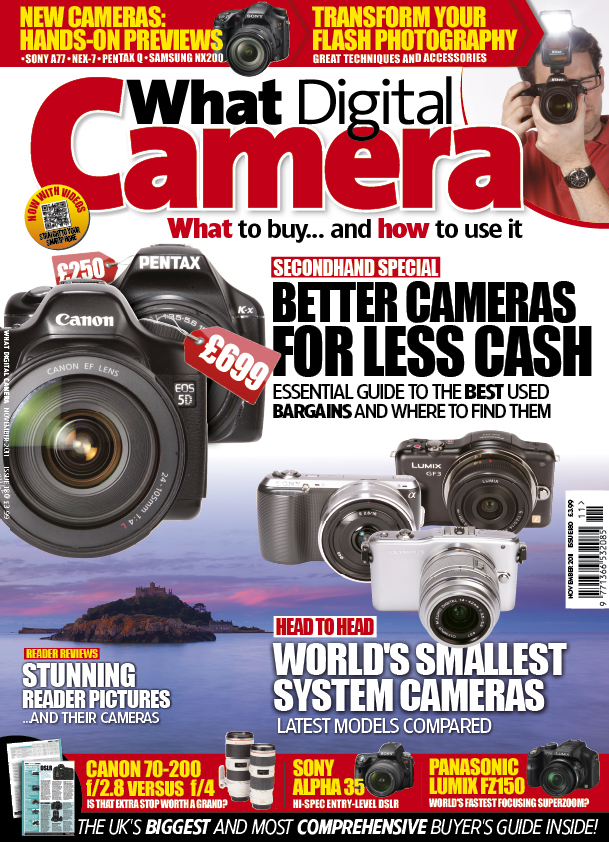 On sale: Fri, 30 Sep 2011
EQUIPMENT REVIEWS:

Compact System Camera group test
World's smallest system cameras the Olympus PEN E-PM1, Panasonic Lumix GF3 and Sony NEX-C3 go head-to-head for the budget CSC crown. Find out which one comes out on top

Buying Secondhand Kit
There are plenty of bargains out there if you know the best places to look. In our essential eight-page guide we show you what to look for when buying used cameras and other kit, and the best deals to be found

Canon 70-200mm f/4 versus f/2.8 LENSES HEAD TO HEAD
Should you go for the Canon EF 70-200mm f/4L IS USM or the Canon EF 70-200mm f/2.8L IS II USM? We find out whether it is worth paying almost £1,000 more for an extra stop

Sony Alpha A35
The latest DSLT from Sony is packed with features. It could be the best entry-level DSLR camera at the moment

Panasonic Lumix FZ150
With a massive 25-600mm optical zoom and 12fps, is this the best bridge camera out there?

Sony DSC-HX9V
This 16MP compact packs in plenty of DSLR-worthy features

Sub-£100 Software Round-Up
We round up five software options for under £100: Corel Paintshop Pro X4, Serif Photoplus X5, Apple iPhoto, Adobe Photoshop Elements 10, and Cyberlink PhotoDirector 2011

Compact camera reviews
We test the Olympus SZ-20, Sony Cyber-shot WX7 and Panasonic FS37

Accessory reviews
We test the Pompidoo camera bag, Manfrotto 057 carbon fibre 3-section tripod, Manfrotto 057 magnesium ball head with RC4, and the Micromuff. On the media side, we check out the free app 9.11.01: The Photographers' Stories, while the books reviewed this month are Famous Faces, Digital Photographer's Complete Guide to HD Video, and Landscape Photography: The Four Seasons

FEATURES:

Getting to Grips with: Flash
In our latest instalment, we look at flash. Here you can find everything you need to know about how to perfect your flash shots

Capture!
Read our essential guide to off-camera flash, with pro photographers Adam Duckworth and Sheradon Dublin revealing their wireless and strobist flash secrets too

Pimp your flash
We look at a host of modifiers and diffusers that you can attach to your flashgun in order to achieve a host of different creative effects

REGULARS:

Live View
The latest photo gear and comment, including first looks at the Sony Alpha A77, Pentax Q, Sony A65, Sony NEX-7, Sony NEX-5N, and Samsung NX200

Opening Shots
We showcase images from the Astronomy Photographer of the Year competition and the WDC Flickr competition

Help File!
Packed with tons of camera and kit buying advice, along with your imaging problems answered

My Digital Camera
Two more readers show us their work and the cameras they use

Evening Class
More of your photos are assessed by Photoshop guru Martin Evening

The Buyers Guide
If you are looking to buy some new kit, check out the facts here

Competition
You could win one of two superb Nikon Coolpix P300 cameras worth £299 each!