What Digital Camera September 2011 issue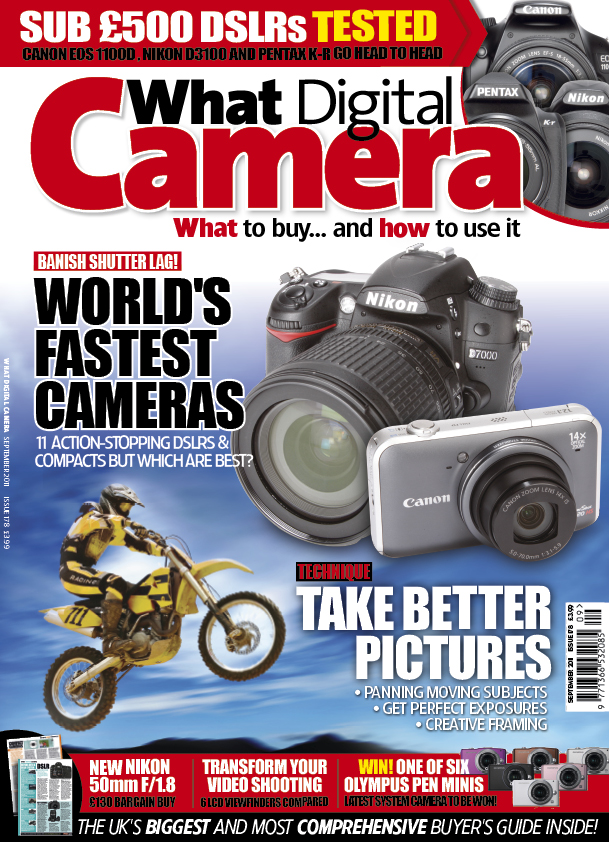 On sale: Fri, 5 Aug 2011
EQUIPMENT REVIEWS

Sub-£500 DSLR group test
The Canon EOS 1100D, Nikon D3100 and Pentax K-r fight it out

Cameras for action
Camera Round-Up: We find out which are the best DSLRs and compacts to shoot action with

Panasonic Lumix GF3
The GF3 is even smaller than the GF2, but is it still as good?

Olympus PEN E-P3
The top-of-the-range PEN Compact System Camera is put through its paces

Compacts reviews
We test four compacts to suit a range of budgets, namely the Panasonic
FS22, Samsung ST95, Kodak EasyShare Touch and Samsung SH100

Sigma DP2X
Sigma's latest Foveon sensor-based compact camera is reviewed and rated

LCD viewfinders compared
Transform your DSLR video shooting! If you shoot video on your DSLR, these babies will make it easier

Lens reviews
Full-page tests: the Nikon 50mm f/1.8G lens, the Sony 20mm f/2.8 lens, and the Tokina 16.5-135mm f/3.5-5.6DX

FEATURES

GETTING TO GRIPS WITH: Metering and Exposure
Discover how to get perfectly exposed shots every time, and learn how to combat tricky lighting conditions

Capture!
We've got some great techniques for you to try, including how to shoot the perfect panning shot, great framing techniques and zoom bursts, so get out there and start shooting!

Profile: Larry Louie
The award-winning Travel Photographer of the Year speaks to WDC about his stunning mono images

REGULARS

Live View
The latest photo gear and comment, including the Panasonic FZ38

Opening Shots
Be inspired by a selection of stunning imagery, and find out stories behind the shots

Help file!
Packed with tons of camera and kit buying advice, along with your imaging problems answered

My Digital Camera
Two more readers show us their work and the cameras they use

Evening Class
More of your photos are assessed by Photoshop guru Martin Evening

THE BUYER'S GUIDE
If you're looking to buy some new kit, check out the facts here

Competition
You could win one of six fantastic Olympus PEN E-PM1 system cameras!