What Digital Camera August 2011 magazine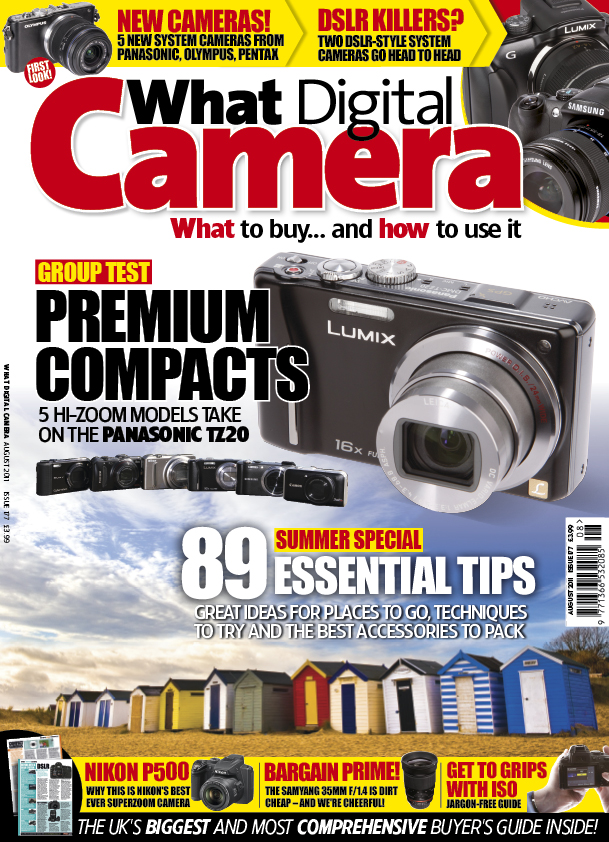 On sale: Fri, 8 Jul 2011
TECHNIQUE FEATURES:

Summer Special
If you are stuck for inspiration this summer and where to go with your camera, we have dedicated 8 pages to this special feature, with a total of 89 tips and ideas for you to try! Including shooting tips, how to give your camera an MOT so it's ready for anything, the accessories you will need, and the top photographic locations you may not have discovered...

Getting to Grips with: ISO & Image Noise
Understand how ISO sensitivity will affect your shots, and how image noise can be controlled at higher ISOs

Profile: Lucie Debelkova
Travel photographer Lucie Debelkova gives you her must-try tips and advice when shooting abroad

EQUIPMENT TESTS:

Head to head: Panasonic G3 versus Samsung NX11
Two top DSLR-style system cameras! We find out if these latest Compact System Cameras can out-do a DSLR, and which one performs better as we pit them head to head

Premium Compacts: Group Test
We got together six high-quality compacts, namely the Canon SX230 HS, Fuji F550 EXR, Panasonic TZ20, Nikon S9100, Samsung WB650 and Sony HX7V, and tested them on a trip round the sights of London to see which one should be crowned the best travel compact

Portable Hard drives: Round up
Which drive should you back your images up on to? We tested the LaCie Rikiki Go, Western Digital
My Passport, iOmega eGo (Mac Edition), Seagate FreeAgent GoFlex Portable, and the Buffalo
MiniStation, to see how they performed

Nikon Coolpix P500
We find out if the 36x zoom Nikon P500 is the best superzoom camera out there

Compact Camera reviews
We test the Canon IXUS 310HS, Pentax Optio S1, Sony Cyber-shot W570 and Canon PowerShot A3300IS

Olympus SZ-30MR
With some clever technology that can capture stills and video at the same time, along with a 24x zoom, we put this model through its paces

Samyang 35mm f/1.4 lens
At under £350, is this 35mm f/1.4 optic too good to be true? We test it out

Apple 27in iMac
Is this the ultimate machine for image makers?

REGULARS:

Live View
The latest photo gear, including First Looks of the Panasonic GF3, Olympus E-P3, E-PL3, E-PM1 and Pentax Q

Opening Shot
We showcase an amazing image from the Chilean Volcano eruption

Help File!
Packed with tons of camera and kit buying advice, along with your imaging problems answered

My Digital Camera
Portfolios of two more readers, and not only that but we have the superb winning images from our web competition, to win a Canon 550D, where we asked you to submit your best Park images. We also showcase the winners of our Flickr Competition, which had the theme of Animals

Evening Class
More of your photographs are assessed by Photoshop guru Martin Evening

The Buying Guide
If you're looking to buy some new kit, check out the facts here, as well as our comprehensive listing

Competition
You could win one of 20 copies of the brilliant Magix Photostory on CD&DVD 10!