What Digital Camera July 2011 issue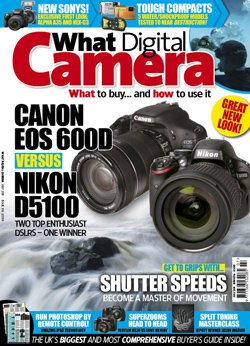 On sale: Fri, 10 Jun 2011
FEATURES:

Getting To Grips With: Shutter Speeds
Discover how shutter speeds can allow you to control exposure and record movement in your images, in our essential guide

Capture!
Technique: This month we show you how to split tone your mono images like a pro, shoot interiors and use Layer Masks to get the perfect result, as well as how to use an intervalometer

EQUIPMENT TESTS:

Canon EOS 600D versus Nikon D5100
Head to Head: We see which of these two mid-price DSLRs you should buy

Tough Cameras
Five rugged compacts are tested to close to destruction: the Pansonic FT3, Sony TX10, Olympus TG-310, Pentax WG-1 and Fuji XP30. Can these waterproof, crushproof, freeze-proof cameras survive to the levels they claim? We find out which is best

Fujifilm HS20EXR versus Sony HX100V
Both feature a massive 30x zoom range, so we find out which one comes out on top

Pro Backpacks
If you have got stacks of gear, a professional backpack is a must. We test six of the best: Tamrac Expedition 8x, Think Tank Airport Addicted v2.0, Lowepro Pro Runner 450 AW, Vanguard Skyborne 53, Kata Bug PL-203, and the Petrol Bags PD331

Compacts Reviews
We test four compacts to suit a range of budgets. The affordable Fujifilm Z90, the 18x zoom Nikon Coolpix S9100, the sleek Canon Ixus 115 HS and the 14MP 5x zoom Panasonic FX700

Nikon Coolpix P300
With an ultra-fast zoom lens and a range of creative controls, will this compact tempt you from its rivals?

Fujifilm Finepix F550EXR
With a range of advanced features including 15x zoom and 16MP chip

Lens Test: Canon 70-300mm f/4-5.6L IS USM

Lens Test: Panasonic Lumix G-Vario 100-300mm f/4-5.6 Mega OIS

REGULARS:

Live View
The latest photo gear and comment, including the Sony NEX-C3 First Look and Sony Alpha A35 First Look

Opening Shots
We showcase images from the prestigious Sony World Photography Awards 2011 competition

Profile: Javier Arcenillas
Javier picked up a host of awards at the Sony World Photo awards for his striking portfolio of images. We find out what drives him in our Profile Interview

Help File!
Packed with tons of camera and kit buying advice, along with your imaging problems answered

My Digital Camera
Two more readers show us their work and the cameras they use

Evening Class
More of your photos are assessed by Photoshop guru Martin Evening

The Buying Guide
If you're looking to buy some new kit, check out the facts in our comprehensive 24-page Buyting Guide

Competition
You could win one of three superb Casio EXILIM EX-ZR100 cameras!