What Digital Camera May 2011 issue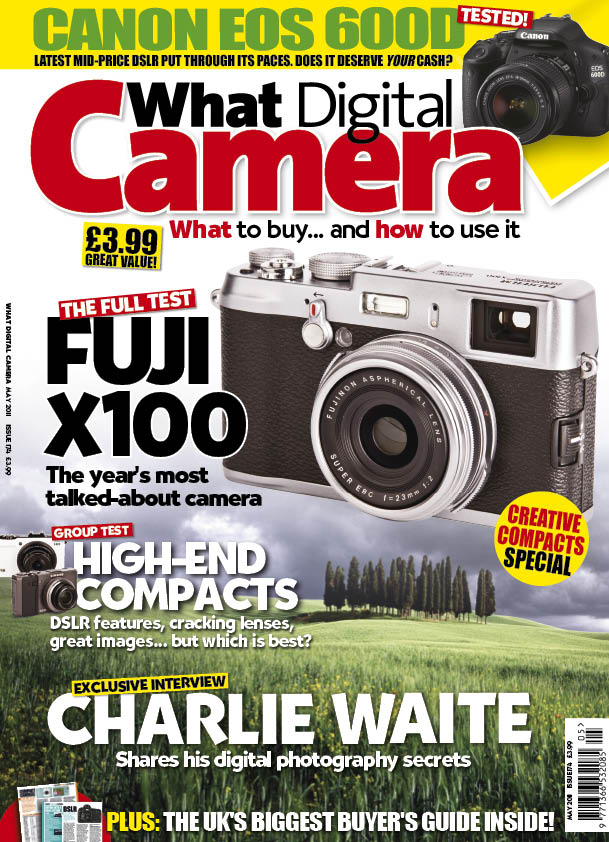 On sale: Fri, 15 Apr 2011
COVER STORIES:

Fujifilm FinePix X100
The must-have compact tested.

Enthusiast compacts
The best enthusiast compact revealed.

Charlie Waite
Legendary photographer discusses kit.

Canon EOS 600D
Canon's latest DSLR under the WDC microscope.

Compact Shooting tips
Get the best from your compact camera.

Essential Filters
We name the filters you should own.

EQUIPMENT REVIEWS:

Canon EOS 600D
An update to the EOS 550D, does the 600D offer enough to keep the competition at bay?

Fujifilm Finepix X100
It must be the most eagerly awaited camera in the last year, and we've got our hands on it for a full review. Just how good is it?

Creative Compacts
Group Test: If you are looking for a compact with creative controls, we group test the Panasonic LX5, Olympus XZ-1, Samsung EX1, and Canon S95, and reveal the best model for you.

Panasonic Lumix TZ20
With a massive 16x optical zoom range in a slim body, is this the perfect travel compact?

Canon Powershot SX220 HS
Brand new 14x compact from Canon.

Nikon S2500
Nikon's budget compact tested.

Nikon S3100
14MP, 5x zoom model with 26mm wideangle.

Panasonic Lumix FZ45
Superzoom bridge camera with a 25-600mm optical zoom range reviewed.

Casio EX-ZR10
A host of features and high-speed capabilties.

Panasonic FT3
This rugged model looks suited to an outdoor lifestyle.

Geared Up!
Accessories tested include: Three Legged Thing carbon fibre tripod, Nikon?s 24-120mm lens, the Sigma 50-200mm lens, Jarcom remote pan and tilt tripod head, Aquapac DSLR housing...

Pimp my Compact
A round-up of all the must-have accessories for your compact camera.

PHOTO TECHNIQUE:

Help Q&A
Camera-buying Q&A plus Top 5 entry-level DSLRS and image editing software.

Charlie Waite: Pro interview
World-famous landscape and travel photographer Charlie Waite lifts the lid on his camera kit and much more. He talks to WDC about his transition to digital and why he never leaves home without a compact camera.

My Digital Camera
More readers showcase their stunning images and the cameras they used to take the shots.

Technique: Essential Filters
While Photoshop may have spelt the end for some traditional techniques, there are some filters that every photographer should have in their kit bag.

Technique: Compact camera tips
If you've got a compact camera, then make sure you read our indispensable guide to getting the best from your camera.

Evening Class
Martin Evening assesses more of your photos with expert advice.

REGULARS:

Opening Shot
Jason Hawkes uses a Nokia N8 cameraphone for his aerial shots.

Live View
The latest photo gear and goings-on, including a First Look at the brand new Nikon D5100.

Competition
You could be the lucky winner of a Nikon D90 and 18-105mm lens worth £819!