What Digital Camera April 2011 issue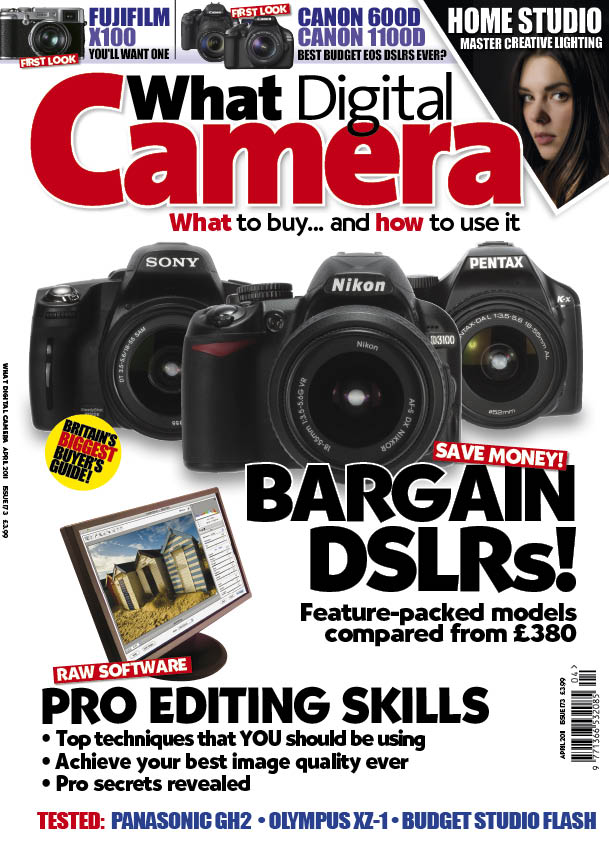 On sale: Fri, 18 Mar 2011
TECHNIQUE:

Help Q&A
Camera-buying Q&A plus Top 5 mid-range DSLRs and sub-£100 budget compacts

Pro Interview: Niall Benvie
Never one to stand still, innovative nature photographer Niall Benvie has landscape photography firmly in his sights, as we found when we interviewed him

My Digital Camera
Two more readers open their stunning portfolios, and the winners of our online Power of Colour competition are showcased too

Pro Editing Skills: Raw Processing secrets
Shooting in Raw gives you so much versatility. We show you the software options and how to master Raw conversion, with our top Raw processing techniques

Studio Portrait Techniques: Creative lighting tips
Using studio lights is more accessible than you may think. We show you how you can master creative studio lighting with your own home studio and achieve cracking high-key and low-key portraiture results. Then you can check out our Group Test of budget studio light kits further on in this issue

Evening Class
Martin Evening assesses more of your photos

Home Study course
Improve your photography on our course

EQUIPMENT TESTS:

Fujifilm Finepix X100 - Hands-on exclusive first look
We look at this much-anticipated advanced compact with hybrid viewfinder

Canon 1100D First Look
The Canon EOS 1100D is a timely upate to the ageing 1000D. We get our hands on it

Canon 600D First Look
We preview this new mid-range DSLR

Group Test: Bargain DSLRS from £380
We group-test three entry-level DSLRs for £450 or under: the Sony A390, Nikon D3100 and Pentax K-x. Which one of these feature-packed models is best for you?

Panasonic GH2
Is this latest Micro Four Thirds camera good enough to encroach upon DSLR territory?

Olympus XZ-1
Review: Serious enthusiasts will want to check out this latest Olympus advanced compact - it could be the best high-end compact

Canon Ixus 220 HS
Review: Brand new compact from Canon

Ricoh CX5
Review: The CX5 builds on the previous CX4's successes

Casio EX-ZR100
Review: Latest Casio compact with backlit sensor

Geared Up!
Accessories tested this month: Pixelmator software, Sigma 50-500mm lens, Nikon Speedlight SB-700 flashgun, Lexar Pro 600x 32GB CompactFlash card, Flip Mino HD camcorder, and books

Group Test: Budget Studio Flash kits
Home studio enthusiasts looking for lighting on a budget have never had so much choice. We compare five two-head flash kits under £500

REGULARS:

Opening Shot
A winning image from the World Press Photo competition by Corentin Fohlen

Live View
The latest photo gear and goings-on, including Apple iPad 2, new Canon DSLRs and more...

India photo holiday offer
Book now on this once-in-a-lifetime photographic holiday tour of India!

Competition
You could be the winner of a Canon EOS 550D & 18-135mm lens worth over £1,000 courtesy of Park Cameras!


Free mini tripod UK only.