What Digital Camera September 2010 issue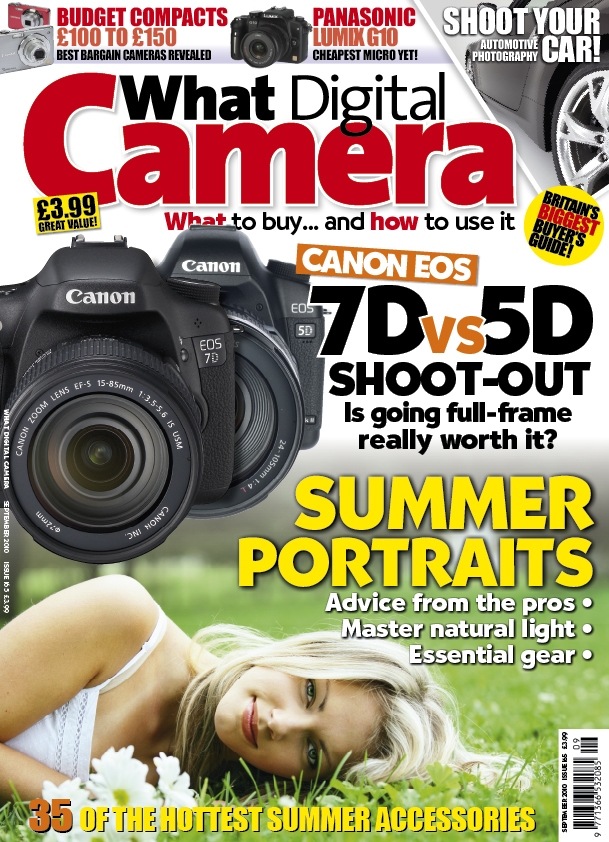 On sale: Fri, 6 Aug 2010
EQUIPMENT TESTS:

Canon 7D vs Canon 5D MkII shoot-out
Full-frame vs APS-C: is it worth the upgrade? We pit the Canon 7D against the Canon 5D Mk II to see if the quality of full frame really makes a difference

Budget compacts
Group Test: We check out six of the best models for £120 or less to find the best-value compact out there

Panasonic Lumix G10
Panasonic's most affordable Micro Four Thirds camera yet. Is it a worthy investment?

Samsung EX1
Samsung's high-spec creative compact

Nikon P100
We find out just how good is the latest superzoom from Nikon

Geared up!
Accessories tested include: Adobe Lightroom 3.0, Apple iPhone 4, a clutch of photo apps for both the iPhone and iPad, Seagate FreeAgent GoFlex Net and the Manfrotto Fig Rig

Samsung NX Lenses: GROUP TEST
We test the three lenses in the Samsung NX system: the 18-55 wideangle zoom, the 50-200mm tele-zoom, and the 30mm fast prime

TECHNIQUE FEATURES:

Outdoor Accessories
Out and about taking photos this summer? We round up those essential camera accessories that will help you to improve your shots

Take Better Summer Portraits
With the long days, summer is a perfect time to capture great shots of friends and family. Pro portrait photographers reveal their tips for shooting flattering images of people

Shoot your car: Easy Guide to Car Photography
Ever wondered how they make those slick car adverts? We show you how to set up the perfect automotive shot so you can turn your motor into an auto model

Evening Class
Martin Evening assesses more of your photos

HELP Q&A
Camera-buying Q&A plus Top 5s

Rough Guide to: SENSORS
We help you demystify the jargon

Pro Interview
Natalie Dybisz, the photographer behind Miss Aniela, shows us her work and talks about kit


REGULARS:

OPENING SHOT
Overall winner of the Chartered Institute of Building's "Art of Building" competition.

LIVE VIEW
The latest photo news, including new Panasonic and Sony compacts

Heather Angel macro seminar
Learn how to achieve stuning macro images with top pro Heather Angel. Reserve your place for the seminar now!

Competition
Two Billingham bags worth over £250 each and more to be won!