What Digital Camera July 2010 issue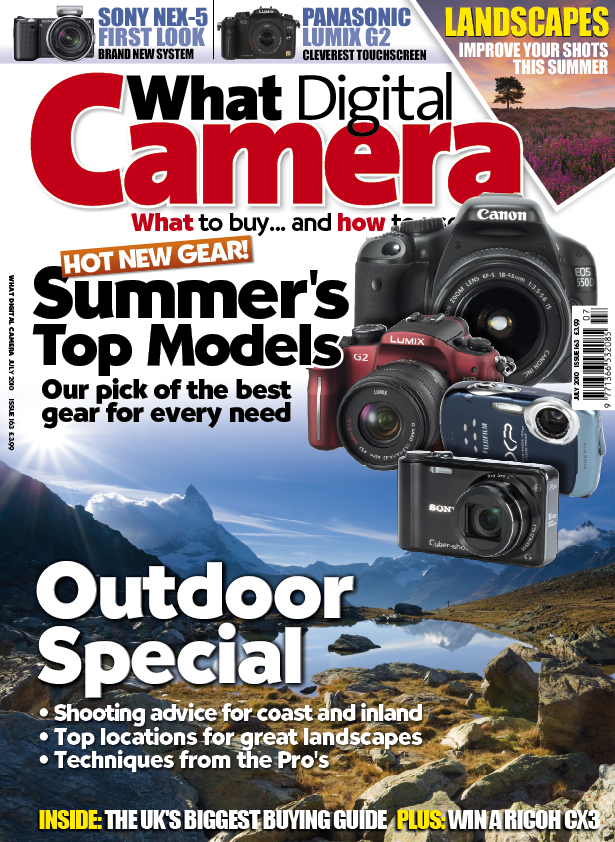 On sale: Thu, 10 Jun 2010
TESTS:

First Look: Sony NEX 5
We take a look at the exciting Sony NEX system

Panasonic Lumix G2
With touchscreen and HD movie, is this the future of Micro System Cameras? We check out Panasonic's new offering in our big test this month

Fujifilm HS10
A DSLR-style 30x zoom bridge camera with bags of functions, this looks like the business. We put it through its paces

Leica X1
With a DSLR-like sensor, is this Leica the ultimate luxury compact?

Kodak M550
A budget 5x zoom model with 12MP

Fujifilm F80 EXR
This 12MP Fuji has excellent low-light ability

Casio EX-FH100
High speed movie capture and Raw shooting

Geared up! Accessories
Eye-Fi Pro X2, Magix Photostory on CD & DVD 9, iStorage diskGenie, Zoner PhotoStudio Free, Proporta Aluminium Memory/SIM card holder, Kodak ESP Office 6150 A4 printer, Learn Adobe Photoshop Elements 8 DVD, and more!

Lens group: Ultra-wide primes
Ultra-wideangle lenses: We test the 14mm primes from Canon, Nikon and Pentax and
the Sigma 15mm fisheye. Which are you better off forking out for?

TECHNIQUE

Summer Cameras
Whether you are planning a summer getaway at the beach, backpacking or a city break, you will find our comprehensive guide to the most suitable cameras and other gear indispensable.

OUTDOOR SPECIAL: How to shoot better Landscapes
Our in-depth 12-page feature on finding and taking better landscape, and seascape, shots. We pick out stunning UK locations you should visit and give you tips on just how to ensure your shots are just as stunning.

Help Q&A
Camera-buying and technique Q&A, plus Top 5 cameras for the World Cup, and Fight Club: Samsung NX10 v Olympus E-620

Pro Interview
Landscape Photographer of the Year overall winner Emmanuel Coupe tells us
about his artistic inspirations

My Digital Camera
More readers showcase their stunning images

Evening Class
Martin Evening assesses more of your photos

Competition
Three superb Ricoh CX3 bundles to be won, worth over £300 each!