What Digital Camera April 2010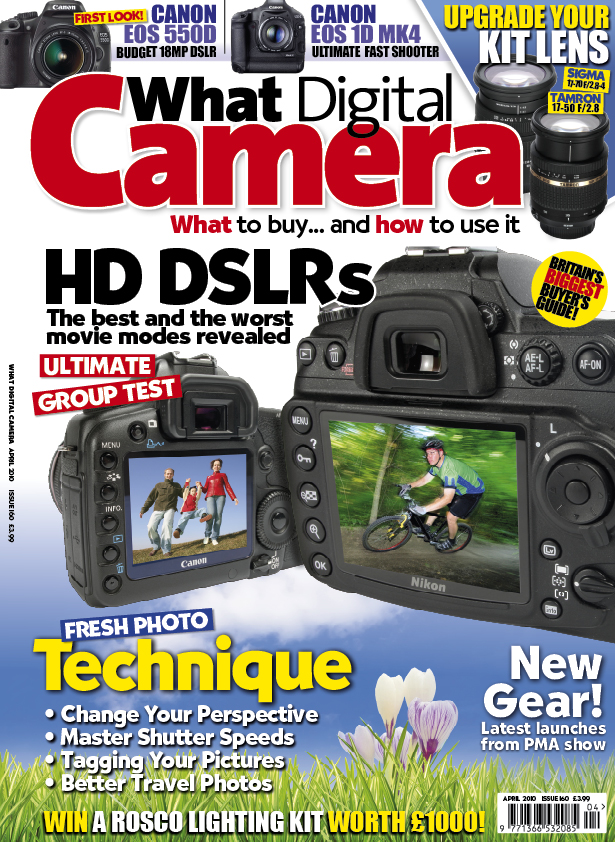 On sale: Fri, 19 Mar 2010
TECHNIQUE:

Pro interview: Jim Reed
Author of the award-winning photo book Storm Chaser, Jim takes his life in his hands
to document all kinds of extreme weather. We interview him, keeping a safe distance

Travel Photo tips
We pick our fave images from the Travel Photographer of the Year awards, and show
you how to improve your own travel photos

Mastering shutter speeds
We cover all you need to know to get creative with the shutter speed control on your camera

Viewpoints
Why your shots would benefit from a new perspective, and the subjects you should try it with

Tagging images
Photo Editing: How to tag your images with the new features in Photoshop Elements 8

Competition
Win a Rosco lighting kit worth a grand!

TRIED AND TESTED:

First Look: Canon 550D
First hands-on look at this budget 18MP DSLR

First Look: Panasonic G2 and G10
New entries into the Micro System market

First Look: New Sony Alphas
Sony mirrorless Alpha concept

Canon EOS 1D Mk IV
Canon's most advanced DSLR yet boasts HD video, and top ISO of 102,400. We put it through its paces

Guide to: HD DSLRs
Ultimate Group Test: Which DSLR shoots the best-quality Hi-Def video? We check out six top DSLRs

Leica D-Lux 4
Does this live up to the quality standards of Leica?

Canon A495
This affordable Canon boasts a fast AF and 10MP

Panasonic FS11
Nice-looking and a pleasure to use, says our tester

Canon A3000 IS
What is the PowerShot A3000 IS like?

Nikon S8000
This Coolpix offers a 10x optical zoom

Casio EX-G1
Weather-proofed G1 tested

Panasonic FT2
14MP and bags of weather-proofing

Geared up!
Epson PX650 all-in one printer, Corel Paintshop Photo Pro X3 and more...

Lens head2head
WDC tests kit lens alternatives Sigma 17-70 vs Tamron 17-50.