What Digital Camera Christmas 2009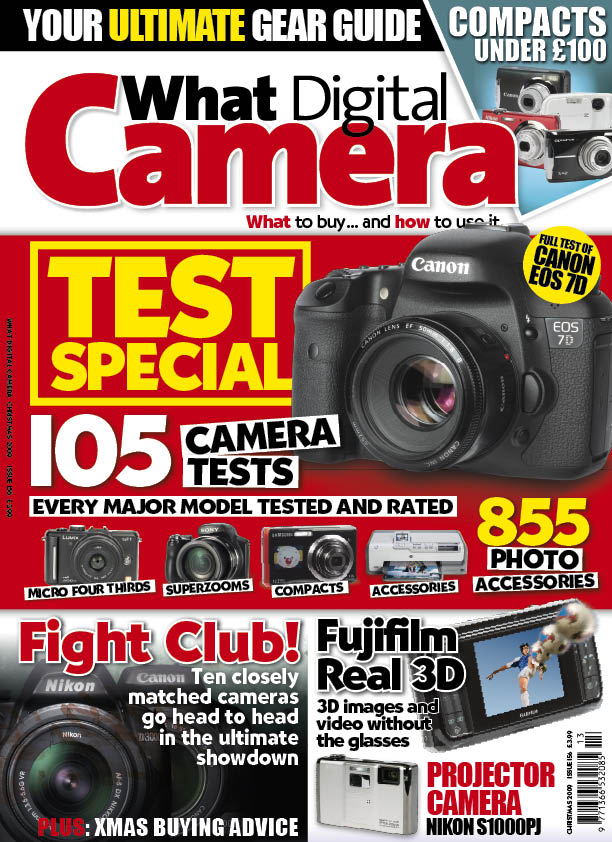 On sale: Tue, 24 Nov 2009
WDC GUIDE - BOOK OF TESTS SPECIAL:

DSLRs
Kicking off our annual round-up of the year's camera tests are a total of 26 DSLR cameras, from entry-level through mid-range, to the high-end professional DSLRs

COMPACTS
WDC tested plenty of compacts in 2009, from £100 point-and-shoots to fully featured compacts designed with DSLR users in mind

BRAND NEW TESTS:

CANON EOS 7D
Canon's all-new EOS 7D redefines the EOS range with its positioning as a premium, semi-pro DSLR with an APS-C sized sensor. Just how good is it?

£100 compacts Group Test
Four sub-£100 point-and-shoots from Nikon, Canon, Olympus and Fujifilm duke it out

FIGHT CLUB!
Like-for-like cameras go head-to-head in this ultimate smackdown. Covering bouts from your advanced compacts to Micro Four Thirds systems, entry-level DSLRs and beyond, we pitch together five matches to see which contenders come out on top...

FUJI 3D W1
Is this twin-lens 3D compact camera the future of imaging technology or just another novelty gizmo?

Nikon S1000pj
The S1000PJ features a built-in projector. But is it, along with the camera behind it, up to scratch?

Pentax Optio p80
Is this 12MP compact worth its £145 asking price?

Pentax Optio WS80
This 10MP compact is waterproofed to 1.5m

Sony TX1
Does this Sony deliver on its low-noise promise?