What Digital Camera October 2009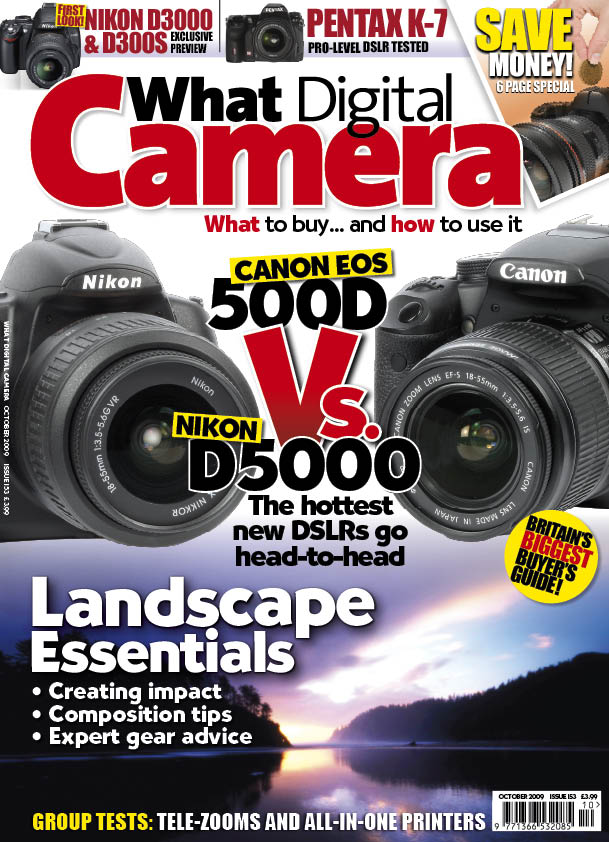 On sale: Tue, 1 Sep 2009
PHOTO TECHNIQUE:

Budget Special
Times are hard for everyone at the moment, so it's even more important to get the most for your money. Let us show you how in our special feature...

Landscape Essentials
Give your images the edge by following landscape expert Niall Benvie's top tips on how to shoot the perfect landscape

Photoshop: Clone Tool
We show you how to get the most out of one of Photoshop's most renowned tools

Profile: Tom Mackie
Stock photographer Tom Mackie also enjoys running photography workshops. WDC takes a look inside his kit bag and asks him how he shoots his dramatic, large-format landscapes

TRIED AND TESTED:

DSLR Head to Head: Canon 500D v Nikon D5000
These two popular mid-range DSLRs are both excellent, but which is the one for you?

Pentax K7
Boasting HD movie and effective in-camera shake reduction, Pentax's pro-level DSLR looks superb

First look: Nikon D3000 & D300S
An entry-level DSLR and an update to the D300

All-in-one printers
We group test three all-in-ones priced under £150

Canon A480
Image quality is impressive on this Canon compact

Sony W220
Budget compact with understated style

Fuji Z30
Easy and fun to use but is it any good?

Kodak Z915
Good design, easy handling and 10MP

Sony W290
A Jessops exclusive that's packed with features

Panasonic ZX1
A host of killer features and an 8x wide zoom

Geared up!
The latest cameraphone, a pocket projector,
a photo scanner, an OLED frame and much more

Nikon 10-24mm lens
Nikon's new ultra-wide zoom lens on test

70-200mm lenses group test
Four tele-zoom lenses group tested

Competitions
Your chance to win some great gear!