What Digital Camera July 2009 magazine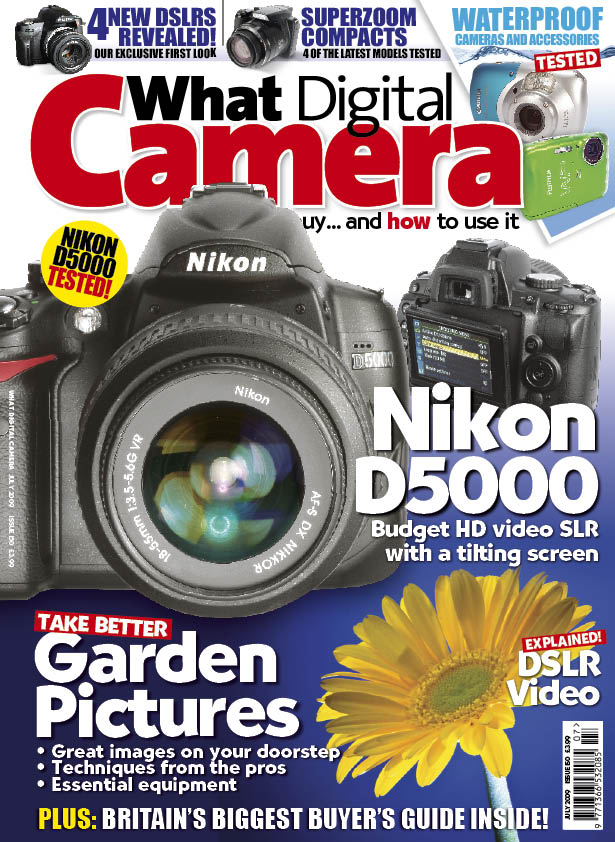 On sale: Fri, 12 Jun 2009
TRIED AND TESTED:

First Look!
We take a gander at the new Pentax K7 DSLR

First Look!
WDC takes a first look at three exciting new DLRS from Sony: the a230, a330 and a380

Nikon D5000
Challenging Canon's 500D, the 12MP Nikon D5000 DSLR can shoot HD movies around corners

Waterproof compact cameras
Looking for gear suitable to take on your beach holidays? We check out four cameras that should fit the bill – and some water-friendly accessories

Superzoom compacts
We check out four 24x superzoom bridge cameras – the Olympus SP590, Pentax X70, Nikon P90, and Kodak Z980. Do they pass muster?

Panasonic FX550, Nikon S225, Canon A2100, Sony T900

Geared up! Accessories
Sigma EF-530 flash, Gary Fong Lightsphere, onOne Phototools 2, Domke F2 Waxwear bag, Delkin Fat Gecko camera mount, Sony DPF-X800 photo frame, Tread Campouch

Lenses group test
Fixed-aperture standard zooms for full-frame cameras aren't cheap but they do offer fantastic image quality. Jon Tarrant tests three front-runners - Canon 24-70 f/2.8L USM, Nikkor 24-70 f/2.8G ED, and Carl Zeiss 24-70 f/2.8 ZA Vario Sonnar

PHOTO TECHNIQUE:

Garden pictures
We show you how to shoot great nature photographs in your own garden. Techniques and inspiration from this year's award-winners of the International Garden Photographer of the Year 2009

Pro Interview
Adam Lawrence specialises in shooting unique, quirky portraits of the stars. We catch up with him to find out what makes him tick and what camera gear he finds indispensable

Rough Guide to... Video modes
Video modes on DSLRs are more sophisticated than ever. In our special four-page feature, we show you the best way to use them

and much more!