WDC Contents for May09 issue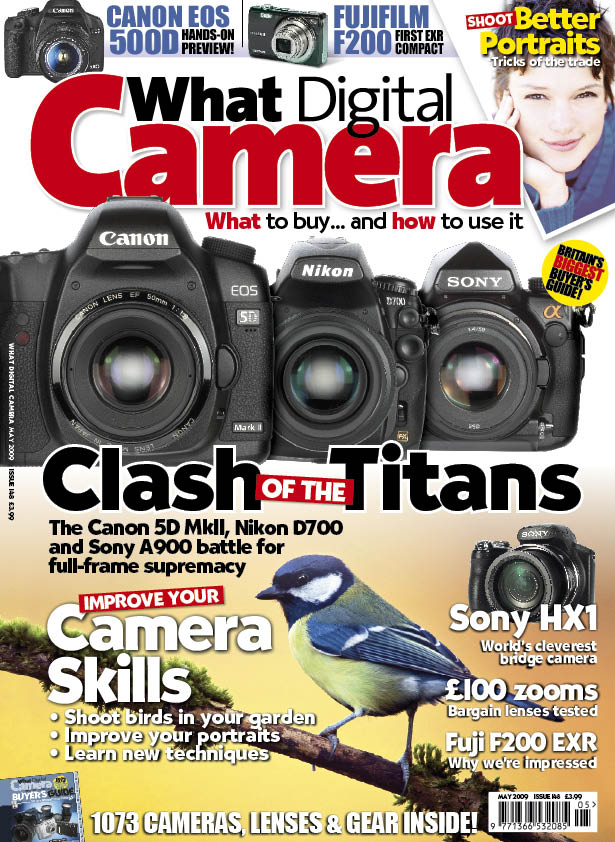 On sale: Fri, 17 Apr 2009
ON TEST:

Three-way test: Full-frame DSLRs
The Sony a900, Canon 5D Mk II and Nikon D700 go up against each other in our clash of the titans

Sony HX1
Launched at this year's PMA, the HX1 sports innovative new features, but is it any good?

Canon SX200 vs. Pansonic TZ7
Hed to head - Compact superzooms are increasingly popular, and we've pitted two of the best against each other

Fujifilm F200 EXR
The first model to sport Fujifilm's new EXR sensor

Geared up! Accessories
Sony Ericsson C905 cameraphone, Nikon SB-900 flashgun

Goup Test: Tele-zoom lenses
Do you really get what you pay for, or are there bargains to be had? Jon Tarrant tests three low-cost independent lenses – Sigma 55-200mm, Tamron 55-200mm, and Sigma 70-300mm – to find out

First Look!
We visited Canon on the launch of its new Canon EOS 500D DSLR to check it out...

TECHNIQUE:

Masterclass: Portrait tips
Professional portrait photographer Rod Edwards imparts wisdom on how to take better portraits

How to shoot: Garden birds
May is the peak of the breeding season for garden birds and there is more activity to photograph now than at any other time of year, says top pro Colin Varndell. For successful bird photography, follow his tips and techniques

Pro Interview: Dan Chung
Guardian photographer Dan Chung is one of the most respected, and published, photojournalists in the business. WDC gets privileged access to him, finding out what makes him tick

Rough Guide to: New Technology
From smile shutter to blink detection, face detection to intelligent auto, WDC takes a look at all the new technologies on the market

and much more!!