What Digital Camera April 2009 issue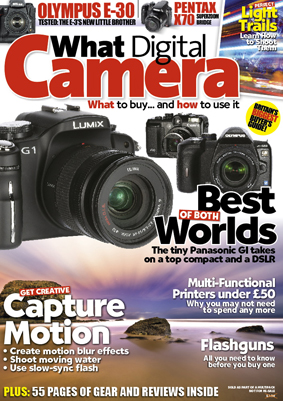 On sale: Fri, 20 Mar 2009
ON TEST:

Three-way test: Battle of the Sensors
Can Panasonic's new Micro Four Thirds format Panasonic G1 hold its own against a DSLR and a high-end compact? The WDC test team decided to find out

Olympus E-30
Boasting a tilt and swivel LCD screen and live view, what else does this 12.3MP DSLR deliver?

Pentax X70
This diminutive superzoom packs a 20x punch

Multifunctionals Group Test
Vincent Oliver tests four £50 all-in-one printers and shows why you may not need to spend any more

Carl Zeiss DT 16-80mm f/3.5-4.5 ZA lens
Just one of the seven accessories in our revamped Geared Up section

FIRST LOOK!
We get our mitts on PMA's stand-out cameras: Panasonic GH-1, Olympus E-620 and Sony HX1

TECHNIQUE:

Masterclass: Capturing Motion
How to capture motion better than ever before! Top pro Niall Benvie shares his creative blur techniques - from simple skills such as the art of panning a moving subject to taking long-exposure images of water and clouds, via the benefits of using slow-sync flash

Pro Interview: Jason Hawkes
Aerial photographer Jason Hawkes shows us his unique aerial shots of London, explains the delicate process of shooting from a helicopter, and talks us through his kit bag

Rough Guide to ... Flashguns
Everything you need to know to help you make the right buying choice for your needs

and much more!!