Sony A99 review
Review Date : Tue, 30 Oct 2012
Author : Matt Golowczynski
Sony's full-frame A99 has been a long time coming, but has the wait been worth it? The What Digital Camera Sony A99 review finds out
| | |
| --- | --- |
| Pros: | Light body, bright and detailed viewfinder, most flexible LCD on any camera, high level of customisation, general image quality, superb handling, Smart Teleconversion function, high-quality video |
| Cons: | Delay in changing exposure settings, slow start up, electronic viewfinder can stagger, 
occasional focus freezing issues, 
unhelpful error messages lead to dead ends in operation |
Despite its prolific output across its NEX and Alpha lines over the past few years, Sony has taken a long time to unveil a full-frame successor to the revered A900. The models released since then gave indications as to what may expected from any forthcoming flagship model, and now the A99 has materialised it more or less confirms what most people were expecting.
One of these things was a strong focus on video recording, in order to rival other video-enabled pro DSLRs. The decision to build the camera on the SLT concept also always appeared to be an inevitable move, and what results is arguably the most individual DSLR-like camera targeted at the professional user.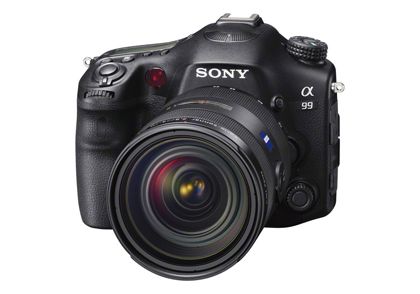 Sony A99 - Features
The A99 sports a newly-developed full-frame CMOS sensor, which produces 24.3MP images in the 3:2 aspect ratio. Curiously its resolution is just slightly down on the 24.6MP A900, although Sony is said to have made significant improvements since the A900 to better image quality. The company has, for example, broadened the size of each photodiode for improved sensitivity, and also redesigned the microlenses which sit over the sensor for the same reason.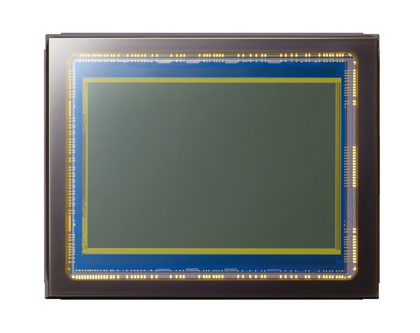 The sensor provides a sensitivity range of 100-25,600 as standard, with extension settings equivalent to ISO's 50, 64 and 80 also on hand. There's even a Multi Frame Noise Reduction mode which captures six frames at once and processes these images together to average out noise, and in addition to the various physical steps Sony has taken to keep the sensor's signal-to-noise ratio as high as possible, options for reducing noise for at both higher sensitivities and longer exposures are also provided.
The 19-point focusing system may appear underwhelming on such a professionally-targeted camera, but there's much more to it than may be initially appreciated; 11 of these points are cross-type, making them sensitive to both vertical and horizontal details (as opposed to standard focusing sensors which work in a single orientation), and these are augmented by 102 further points built into the main sensor, which come into play when one of six current lenses is mounted (other lenses are said to be able to take advantage of this in the near future via firmware updates). This system appears to mirror the hybrid AF technologies found in many recent Compact System Cameras, only here both systems work on phase detection rather than one each on phase- and contrast-detection.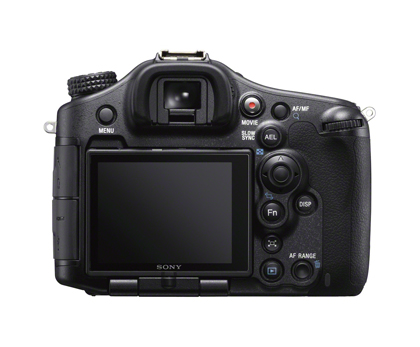 The focusing system also works in conjunction with a new AF range feature, which allows two distances to be specified between which the camera is asked to focus. This works much in the same way as a lens-based focus limit switch, although being able to define close and far focusing distances so precisely here makes this a much superior system. The purpose of this is to minimise the time spent hunting at unwanted distances, particularly when the subject is at risk of being obscured by foreground subjects (or if it is so small that the camera may focus past it).
As with all of Sony's cameras based on the SLT system, the A99 includes an electronic rather than optical viewfinder. It's the same as that featured in the previous A77 model, namely an OLED display with 2.4million dots, which currently stands as the best example of an electronic viewfinder we've seen yet. Sony has even provided the option of adjusting its colour temperature, although quite why you'd need or want to do so is a different matter.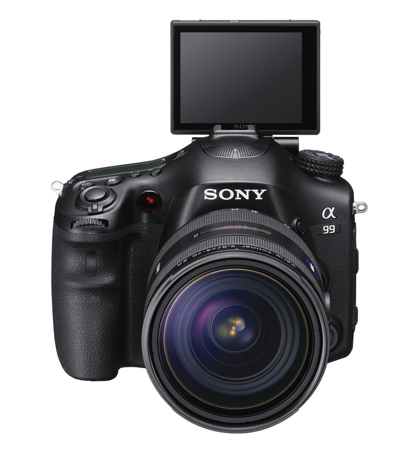 The LCD screen proves to be just as unconventional, for two reasons. First, it deviates from the standard RGB dot construction by adding extra white pixels for improved brightness; as a result its resolution is a lofty 1,228,800 dots. Second, its articulation beats anything seen previously on such a model; it can be pulled some distance away from the camera's body on a hinge, high enough to sit above the viewfinder, and rotated through a 270° angle around a pivot.
Full HD videos are recorded to a choice of 50p, 50i and 25p, and can be output as uncompressed files through the HDMI port. Mic and headphone sockets are also on board, while a new Silent Multi Controller allows settings to be changed silently during recording. And, of course, as an SLT camera, phase-detect AF is maintained throughout all image and video recording.
In addition to all of the above, the camera also contains a range of more consumer-friendly shooting and processing options, such as Auto and Scene modes, Picture Effects including Toy Camera, HDR Painting and Miniature, and the 3D Sweep Panorama mode. Finally, an on-board GPS system allows images to be geotagged.