Ricoh GR Review
First Look
The Pentax Ricoh GR has officially been announced as a new fixed lens compact in the company's GR-series lineup. Successor to the GR DIGITAL IV that was launched in October 2011, the first pictures suggest little has changed in terms of its design, however two significant enhancements have been made to the sensor and the lens the camera employs.

Now equipped with an APS-C sized sensor rather than a 1/7inch CCD sensor, the Pentax Ricoh GR provides a larger image-sensitive area as wide as that of a Pentax DSLR sensor. Squeezing a sensor of this size inside a pocket compact so small is a feat recently achieved by Nikon with the release of the Nikon Coolpix A.
The Pentax GR's similarities with its rival product don't end here and the 16.2MP resolution the Pentax GR produces is the same as the Nikon Coolpix A.



The APS-C sized sensor is partnered alongside a newly developed GR ENGINE V image processor, which allows the camera to shoot as high as ISO 25,600. Interestingly, the GR takes the similar approach to the Nikon Coolpix A in that its anti-aliasing filter has also been removed - a further indication that this could be the same sensor as found within its premium compact rival. Pentax Ricoh claim the decision to remove the anti-aliasing filter will help produce an optimum lens performance and assure exceptional image quality over the entire image field.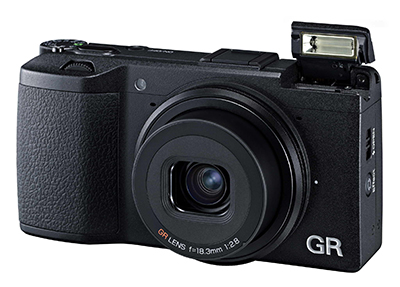 An entirely new 18.3mm f/2.8 GR lens is also featured. Designed to be compact while providing high performance, edge-to-edge sharpness and rich contrast are promised by the manufacturer, while distortion and chromatic aberrations are minimized by the incorporation of two high-precision aspherical lens elements and a highly refractive low-dispersion glass element. The GR also incorporates a manually adjustable ND filter to allow users to open the aperture in bright lighting conditions and for those who'd like to shoot wider than the 28mm equivalent fixed lens allows, Pentax Ricoh will also produce an optional GW-3 Wide Conversion Lens (with 0.75X magnification and optics optimized for the GR) for 21mm ultra-wide-angle shooting

.
The Pentax Ricoh GR uses a high-speed autofocus system that's capable of acquiring focus in 0.2seconds. This has been made possible by the addition of a newly developed lens driving mechanism and optimized autofocus algorithm.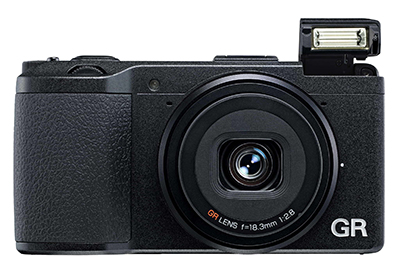 Start up times are claimed to be under a second and in the cameras AF continuous shooting function, the camera can record at up to 4fps. 

With a body that's made of magnesium alloy, the Pentax GR features a new preview button for quick confirmation of depth of field, while elsewhere an AF function button/lever has been added to the cameras back panel. This is designed to allow photographers to capture a series of images of a moving subject - all in sharp focus - by pushing the shutter release button while depressing the AF button when the lever is set to Continuous AF (C-AF).
Adding to these improvements, aperture and shutter speed indicators have been added to the 3inch screen that now features a 1.23 million dot resolution. There's also a redesigned grid guide and an electronic level.


Full HD video (1920x1080) is supported at 30fps and the Pentax Ricoh GR's AF system is designed to remain active during recording. A Non-directional stereo microphone is also provided and Image effects such as retro and bleach bypass are available for users to apply when movies are created. 


Expected to be available from May, the Pentax Ricoh GR will cost £599, however the price of the body with an optional viewfinder is still yet to be announced.