Since the launch of KickStarter in 2009, crowdfunding has exploded as a way for ambitious independent developers to pitch exciting new inventions directly to customers (and their wallets).

It's given rise to some true success stories - Lomography's recent Petzval lens springs to mind - and also some stuff that's beautifully, strangely brilliant. Here's our pick of the oddest and most interesting photography ideas that are available to fund now:


Hasselnuts



Yep, you can mount a Hasselblad V-system camera to an iPhone. It looks even more bizarre than it sounds, but reading the pitch does actually pique our interest quite a bit.
With the Hasselnuts, developed by Badass Cameras, the iPhone functions as a digital back for the bulky Hasselblad V-system cameras, retaining the Hasselblad image 'look' with a projection system that allows for the same depth of field as medium format cameras.

The Hasselnuts still has 29 days left to go and has already doubled its $10,000 funding target. A lot of the rewards have gone already but there's still a chance to get the product for cheaper than the planned retail price, so if it sounds like something you're interested in you'll want to head over to the funding page.

http://www.kickstarter.com/projects/96793993/hasselnuts-hasselblad-camera-iphone-digitalback-ki?ref=search


GoVest
Have you ever wished you owned a tripod that was also a vest? Well these people have made one anyway.

Designed for use with rugged GoPro action cameras, the GoVest, developed by Z Gear Inc., mounts the camera to the user's shoulder, providing as near as possible to a first-person perspective for shooting activities such as surfing, snorkeling or white-water rafting.

This one has a fair few days to go, but is only about $1500 into its $10,000 goal, so if you like the sound of it, consider throwing them some cash.

http://www.kickstarter.com/projects/zgear/the-govest-a-human-tripod-vest-for-cameras-like-go?ref=live
Rideye
This is just a plain good idea. A black box camera for your bike, affixing securely to the handlebars and recording HD video with the touch of a button. It's got 120º optics to capture a wide field of view, battery life that the makers say will last for a month and enough internal memory to store 2.5 hours of video.

Creator Cedric Bosch is pitching the Rideye as a recording system for use with accident claims, but given its ability to capture HD (1280x720) video, surely the videography possibilities of such a device haven't escaped the notice of its 311 backers.

This project has already soared past its $32,000 goal, but with 26 funding days still to go there's plenty of time to kick in a little cash to get yourself in line for some rewards.

http://www.kickstarter.com/projects/rideye/rideye-the-black-box-camera-for-your-bike?ref=live


Easy-macro smartphone lens
Is any type of photography safe from the smartphone invasion? Certainly not macro any more, with the introduction of the Easy-macro smartphone lens. Developed by Adam Hicks, the Easy-macro lens was first developed and launched two years ago. The current Kickstarter, 9 days away from completion, is simply about keeping up with demand!

The lens fits onto any smartphone, and takes fantastic images like this one: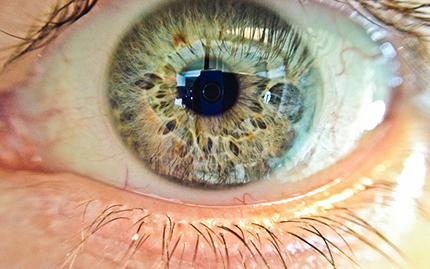 You can actually see the reflection of the lens in the pupil, if you look closely.

It's once again beaten its funding goal, but if you hurry there's still time to claim some of the rewards on offer.

http://www.kickstarter.com/projects/76865543/the-easy-macro-smartphone-lens?ref=discover_pop

Digipod

Continuing the theme of blending film and digital, the Digipod is a 'digital film cartridge' - essentially a way to use 35mm film cameras to take digital images. Assuming it works, this does rather fall under the 'why did no-one think of this before' category. Creator James Jackson runs through his process on the crowdfunding page, and it

Sadly, with just a few days to go, this looks to be falling well short of its ambitious £199,000(!) funding target. These things have a tendency to resurface, however, so it may be worth keeping an eye on the makers to see if a different approach breathes new life into the project.

http://www.indiegogo.com/projects/digipod