Sony NEX-5T Review
Image Quality
Sony NEX-5T Review - Image Quality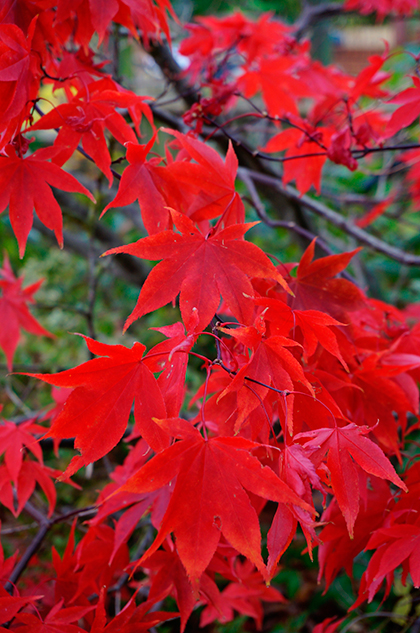 It's hard to take good photos when the weather in gloomy and overcast, nevertheless the NEX-5T managed to turn in some very good shots during testing, with excellent overall sharpness, clarity and colour reproduction.
Colour and White Balance
Good colour saturation is especially difficult when the light's bad, but the NEX-5T performed very well. Bright colours were well saturated, especially the strong reds and oranges of autumn leaves. Greens always look a bit washed out at this time of year, but blues were nice and bright too.
Automatic white balance coped perfectly well while shooting in daylight, but towards the late afternoon a switch to shaded or cloudy settings produced better results.
Exposure and Dynamic Range
There were no real problems with exposure, with images showing good tonal range, plenty of shadow detail and minimal highlight clipping, as one might expect from a larger, less crowded sensor. Even unusual settings, such as artificially high contrast black and white, showed the same tonal range. Shooting in Raw mode produced even more shadow detail.
Resolution
16.1 megapixels is a good compromise between image size and pixel pitch. Sony's Exmor sensor technology produces exceptionally good fine detail resolution, with the result that images appear considerably sharper and more detailed than their actual pixel size might suggest. You'd have to spend another £300 and get the NEX-7 to find more detail.
Image Noise
When it comes to high-ISO image noise, the current king of compact system cameras is the Fuji X-A1 which we reviewed a few weeks ago. The NEX-5T isn't in any danger of beating the Fuji, but it does acquit itself well. Images up to 800 ISO are effectively noise-free.
At 1600 ISO noise starts to become noticeable in darker areas, and at 3200 ISO the noise reduction system starts to lose fine detail. It gets progressively more noisy as sensitivity increases, and at 12,800 ISO colours start to get very blotchy. The 25,600ISO maximum setting is impressively high, but is really only suitable for emergencies.
Kit Lens Performance
When bought as a kit the NEX-5T comes equipped with Sony's new E-mount SEL-1650 powered zoom "pancake" lens, a 16-50mm standard zoom with a maximum aperture of f/3.5 - 5.6. It's a nice lens to use, although to be honest the powered zoom function is a bit redundant on a small camera like the 5T.
The optical quality is solid though, excellent wide-angle edge sharpness and no visible chromatic aberration or optical distortion. However a glance at the Raw files shows that a lot of that performance is done by the image processor, especially correcting some fairly major pincushion distortion at wide angle.