Canon EOS 700D / Rebel T5i review
Design
Canon EOS 700D / Rebel T5i review – Design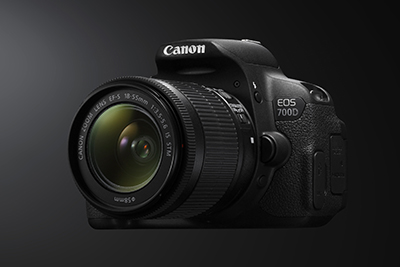 The EOS 700D features a stainless steel chassis and is finished in a polycarbonate resin shell and tips the scales at just 580g – with battery, but without attached lens.
Compared to its predecessor, the 700D has adopted a new external finish borrowed from Canon's mid-range EOS models that Canon claims delivers a more robust and durable finish. This is perhaps most noticeable in the rubberised grip placed round certain areas of the body. The matt finish is relatively successful, but certain areas – particularly round the built-in flash house – it can feel quite plasticky to the touch.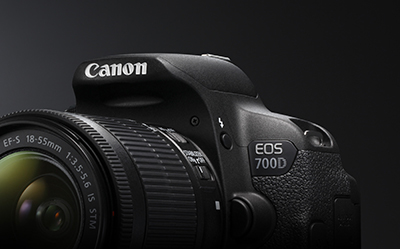 Design evolution
In the hand while the Canon EOS 700D has a relatively diminutive proportioned handgrip, it's none-the-less comfortable and provides a secure grip with the attached 18-55mm lens. The grip still offers a decent amount of support with heavier lenses thanks to the curved lip just underneath the shutter button a rubbered grip and thumb rest.
After 10 years of evolving the design, it no surprise that the Canon EOS 700D is a well thought-out camera and while it shares a pretty much identical design to the 650D, there's still the odd little refinement to be found. The mode dial now features embossed shooting mode icons, while it offers a 360° rotation to make the jump between modes even quicker.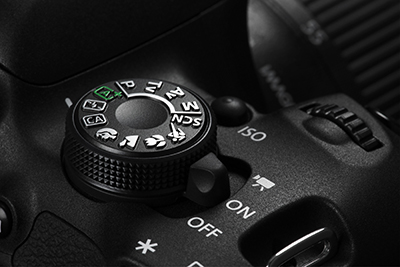 The Canon EOS 700D's mode dial is joined by a handy ISO button on the top plate, along with a control wheel that can be used to control a host of the camera's settings, including aperture, shutter speed and AF selection (when used in conjunction with the AF button at the rear) during shooting. As well as this, the On/Off button also serves as a control to enter movie mode.
At the rear of the 700D there are a cluster of buttons to offer quick access to a host of settings. To the right of the viewfinder there's a Live View activation button (hit this in Movie mode to start recording), while further to the right is the Exposure lock and AF point selection buttons that double-up as your magnify tools during playback.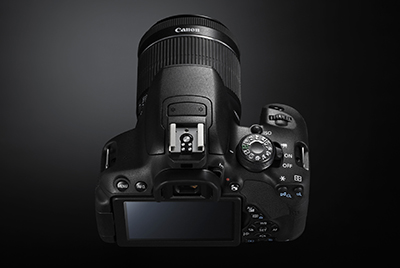 The Canon EOS 700D's exposure compensation button also allows you to toggle between setting aperture and shutter speed in Manual mode due to the single control wheel on the front of the camera. Just below it is a handy Quick menu button, letting you toggle through and adjust a range of shooting settings on the rear display, while the d-pad has dedicated settings for AF, Drive, White Balance and Picture Styles.