Canon EOS 100D / Rebel SL1 review
First Look
Canon's latest DSLR is a completely new proposition from the company. Slotting in between the EOS 1100D and 600D in the Canon EOS line-up, the Canon EOS 100D (also known as the Rebel SL1 in North America) has become the world's smallest and lightest DSLR available today. In comparison to Canon's established XXXD range of DSLRs, its some 25% smaller, shaving off 9.1mm in height, and 16.3mm in length compared to Canon 650D, while they also claim its 28% lighter too, with the body weighing only 370g.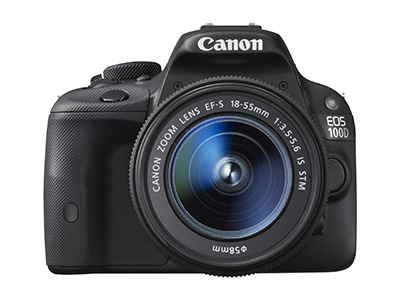 Canon has managed to achieve this miniaturisation by taking a step back and re-engineering many of the camera's internal parts. This includes a new drive system with a smaller motor that reduces the shutter unit size, a denser component layout that reduces the Canon EOS 100D's main board size, smaller battery and a smaller shutter unit and secondary mirror compared to its EOS siblings. This also means that the Canon EOS 100D retains an optical viewfinder, and with a relatively respectable magnification too of 0.87x.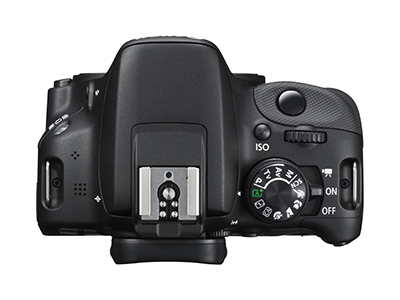 As well as this, the Canon EOS 100D also features a smaller and thinner sensor unit, with a new 18MP, APS-C-sized Hybrid AF II CMOS sensor module delivering an identical ISO range of 100-12,800 (extendable to 25,600) as the EOS 700D, with Canon claiming identical image quality too.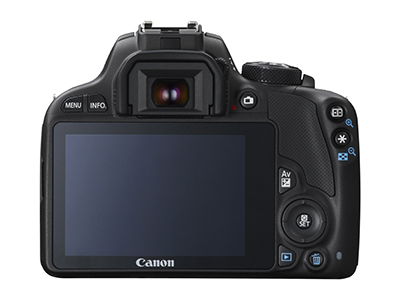 While the Canon EOS 100D has been subject to this weight-saving regime, it retains Canon's EF-S lens mount, and not the slightly smaller EF-M mount that's sported by the EOS M mirrorless offering, so users will have access to 74 Canon EF mount lenses, as well as wide-ranging third-party offerings.
Just as we saw on the Canon EOS 650D, the Canon EOS 100D features built-in phase-detect AF pixels for improved focusing during Live View and video recording, while the 9-point AF arrangement features a single cross-type AF point at the centre of the frame.
Canon EOS 100D / Rebel SL1 First Look
With the EF 40mm f/2.8 STM pancake lens attached, the Canon EOS 100D / Rebel SL1 it's a very diminutive piece of kit and noticeably smaller than any other DSLR currently available - you'd probably have to go back to the Olympus E-450 Four Thirds DSLR to find something comparable in size. In fact, its nearer in size to Canon's PowerShot SX50 HD Bridge camera.
With the bundled 18-55mm f/3.5-5.6 IS STM lens attached and this size saving is somewhat reduced, and because the mirror box is still in place, the depth of the Canon EOS 100D is more pronounced than a typical Compact System Camera. They've still done a good job though to reduce the overall footprint of the Canon EOS 100D / Rebel SL1, especially when you consider it still features a optical viewfinder as opposed to an EVF.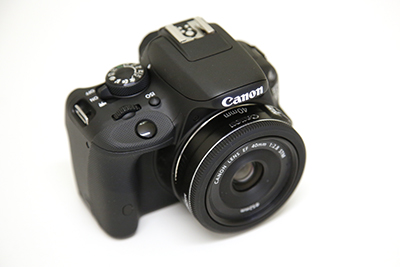 The design of the EOS 100D / Rebel SL1 follows the ethos of other consumer-orientated EOS DSLRs we've seen, but there have been some subtle tweaks, most notably round the handgrip and shutter button. The textured-finish has a more modern, almost carbon-fibre look to it, that runs up round the shutter button, and we have to say we like this new addition.
As you'd expect, the handgrip is quite a bit shallower than other EOS models in this consumer, entr-level sector. Pick it up and in the hand you do miss the extra purchase of a larger grip, especially if you've got larger hands, but it's still more than adequate for general shooting, while the general feel and finish is similar to that of a Canon EOS 650D and Canon EOS 700D.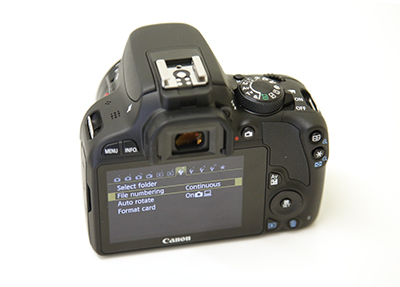 The rear of the camera has been simplified a little compared to other EOS models, with a small all-in-one 4-way multi-purpose control as opposed to a dedicated 4-way control layout for White Balance, Drive, AF and Picture Styles that is the norm for other EOS entry-level models.
In the main though, functionality is very similar, and while the 3in, 3:2 aspect ratio display sits flush with the body, it offers the same level of touch-sensitive control as that found on the Canon EOS 650D and 700D. This means a very responsive user experience, with light pinch-and-zoom and swipe gestures required for quick and easy use. The ClearView II technology employed on the display is impressive, with plenty of clarity and detail, whether you're scrolling through the menu, in Live View or reviewing images.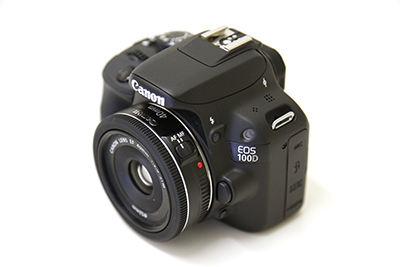 While it features a full suite of manual controls, the Canon EOS 100D is a camera that's aimed at the new user that's making the step-up from a compact, with a built-in Guide mode and a host of auto modes for easy shooting.

Unlike electronic viewfinders found on the majority of cameras this size, the optical viewfinder as you'd expect delivers a clear and uninterrupted display, if a little tunnel-like. The 9 AF points are spread fairly well across the frame, though the single cross-type point is a little disappointing.
Canon EOS 100D / Rebel SL1 - Initial impressions
The Canon EOS 100D is intended to offer another avenue of choice for the potential user and is an interesting development. A mini EOS DSLR is sure to appeal to a wide range of people, be it first time users or enthusiasts looking for a smaller camera they can take with them on occasions when they don't want the bulk of their entire kit, but still want to use one or two of their lenses.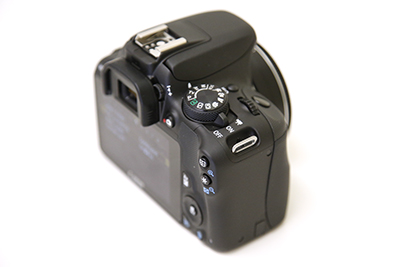 Competing not only with rival Compact System Camera brands such as Panasonic and their Lumix G5, the Canon EOS 100D also appears to be a rival for Canon's own EOS M CSC offering, so it will be interesting to see how Canon develops these to strands of cameras side-by-side.
With a retail price of £699 when bundled with the new 18-55mm f/3.5-5.6 IS STM lens, the Canon EOS 100D is only £50 less than the equivalent EOS 700D kit which benefits from a host of additionally features, including a better specified AF and vari-angle tilt screen. Ultimately though that choice will come down to the user and whether size takes precedence over performance.