Nikon COOLPIX A Review
Review Date : Thu, 28 Mar 2013
Author : Mike Topham
The Nikon COOLPIX A is a premium compact sitting at the very top of Nikon's COOLPIX range. Does it warrant the premium price tag? Find out in our Nikon COOLPIX A review...
| | |
| --- | --- |
| Pros: | Compact design; Excellent image quality; Robust build; Simple menu system; Fantastic LCD screen |
| Cons: | Slow focusing speed; Minimum focus distance; No in-built Wi-fi; No direct movie record button; No filter thread |
With an increasing amount of people turning to smart phones to take everyday snaps, it has left camera manufacturers with little choice but to think up of new ways to revitalize their compact cameras to keep them fresh and appealing to wide audiences. Nikon's approach to refreshing its Coolpix range has been to release its first ever premium compact camera – the Nikon Coolpix A, a model which slots into the company's new A-series placed just above that of the Coolpix P-Series.


The arrival of the Nikon Coolpix A is set to appeal to a specific audience with its fixed lens design, but boasts a number of interesting features that we've never witnessed on a Nikon compact before. Is this then an indication of the way Nikon see their compact cameras heading in the future? Perhaps it is, but with a launch price that's just shy of four-figures, it has to offer something spectacular if it's to score highly in terms of value for money. Let's begin by assessing the Nikon Coolpix A's key features.
Nikon COOLPIX A review – Features
Though the Nikon Coolpix A shares similar visual characteristics to other compacts in Nikon's Coolpix range, a glance of its specification reveals it's an entirely different breed of compact camera altogether. Instead of featuring a 1/2.3inch or 1/1.7inch CMOS sized sensor, the Nikon Coolpix A incorporates a larger APS-C CMOS sensor that's been lifted from the company's enthusiast DSLR, the Nikon D7000. Squeezing a sensor of this size inside a compact that easily slips into a trouser pocket is an impressive technological achievement and it's no surprise that it claims to be the world's smallest compact camera to feature a DX-format sensor.
Much like the Nikon D800E and Nikon D7100, Nikon has omitted the anti-aliasing filter in an attempt to squeeze the very best out of what the sensor has to offer. The benefit is claimed to be better detail rendition and it's likely the Nikon Coolpix A's in-camera processing has been adapted to rectify any false colours or moiré patterning, which can occur as a result of removing the filter altogether.
The Nikon Coolpix A produce an effective resolution of 16.2MP, with Nikon stating the idea behind this is to combine the portability of a compact with the performance of a DSLR. As well as inheriting the sensor from the Nikon D7000, the Nikon Coolpix A adopts Nikon's EXPEED 2 image processor. This is technology is a generation older than the EXPEED 3 processor we've been used to seeing on Nikon's latest DSLRs. Perhaps it's no surprise then that the camera doesn't shoot a breathtaking speeds, but at a more conservative 4fps when the release mode is set to continuous.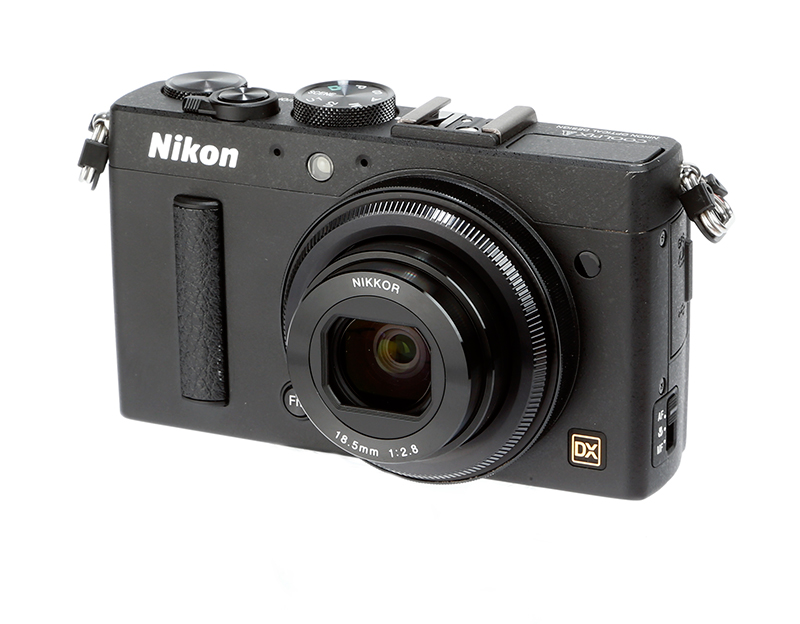 Lens technology
Unlike compacts that feature zoom lenses, the Nikon Coolpix A is more of a niche product with its fixed lens. The 18mm f/2.8 wide-angle optic is equivalent to 28mm in traditional 35mm terms and features a construction that's made up of 7 elements in 5 groups, with 1 aspherical lens completing the design. The decision to use a fixed lens rather than a zoom is presumably in order to optimize the best image quality at one specific focal length while ensuring the lens doesn't protrude too far from the body, which would affect its size and portability.
The limitations of the fixed lens immediately single out the Nikon Coolpix A for anyone looking for a compact that's capable of zooming in to the heart of the action. That said, the Nikon Coolpix A doesn't pretend to be anything it's not and though it may not be the best choice if you're after a general purpose compact, it's apt for reportage, street, travel and documentary photography, where the importance lies in the portability of the camera and the quality of the images it produces.
The Nikon Coolpix A features an ISO range of 100-6400, although it's possible to push the sensitivity higher if required to a maximum equivalent of ISO 25,600 in the Hi2 setting, much like the Nikon D7100. Supporting 14-bit compressed Raw (NEF) and JPEG file formats, autofocus is the contrast-detect type and offers the choice of Single-servo AF or Full-time-servo AF with a selection of four AF-area modes that include subject tracking, face priority, wide-area AF and normal-area AF.


Viewfinder and video

Though the Nikon Coolpix A isn't supplied with a viewfinder, Nikon has produced the DF-CP1 optical viewfinder for those who'd like to compose traditionally. Without it you'll be reliant on using the 3in, 921k-dot screen and at the time of writing, the price of the optional viewfinder was still to be confirmed by Nikon.
For those interesting in creating video, the Nikon Coolpix A supports full HD video at a variety of frame rates, including 30/25 and 24 frames per second. Movies are recorded in the MPEG-4 format using H.264 compression and a built in stereo microphone is included. Regrettably, there's no 3.5mm port to attach an external microphone, which seems an oversight when you consider Nikon's ME-1 microphone could have been attached via the hot shoe on the top plate.
To make the Nikon Coolpix A apt for those who'd like to transfer their images wirelessly to mobile devices, the camera is compatible with Nikon's WU-1a mobile adapter (£49). Any travel photographers who'd like to tag their images with GPS co-ordinates also have the option of clipping on Nikon's GP-1 GPS unit (£199).