Canon EOS 6D review
Review Date : Mon, 10 Dec 2012
Author : Mike Topham
The Canon EOS 6D is targeted at enthusiast photographers looking at making the jump to full frame. Is it the camera Canon APS-C DSLR users have been waiting for? We find out in this What Digital Camera Canon 6D review
| | |
| --- | --- |
| Pros: | Image quality, ISO performance, Wi-Fi & GPS, AF performance in low-light |
| Cons: | One cross-type AF point, JPEG sharpness, playback zoom control |
For years, full frame DSLRs have been the number one choice for high-end enthusiasts, semi-professionals and the working pro. The Canon EOS 5D has long been the camera that's offered the perfect blend between size, performance and image quality, however there's now a new contender on the block - the Canon EOS 6D. Cheaper, smaller and lighter than any existing Canon full frame DSLR, does it have all the credentials an enthusiast photographers is after, or have compromises been made to make it more affordable?

Features
Rather than using the 22.3MP CMOS full frame sensor from the Canon EOS 5D Mark III, Canon has opted to use a 20.2MP CMOS sensor within the 6D. This all-new chip offers a maximum output size of 5472x3648 pixels, providing an ISO range which spans from 100-25,600. This is an identical sensitivity to the Canon EOS 5D Mark III, and much like its bigger brother, there's the option to extend it past the native settings to as low as 50 and as high as 102,400.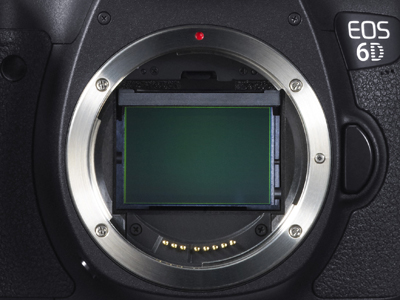 The Canon EOS 6D also shares other similarities to the Canon EOS 5D Mark III. Processing power is the same with the inclusion of a DIGIC 5+ image processor, though it features a slower continuous burst rate of 4.5fps as opposed to the Canon EOS 5D Mark III's 6fps. Compare the Canon EOS 6D with the two APS-C DSLRs that it sits between in the DSLR lineup and it's slower than the Canon EOS 60D, which shoots at 5.3fps and the Canon EOS 7D that can shoot an 8fps burst.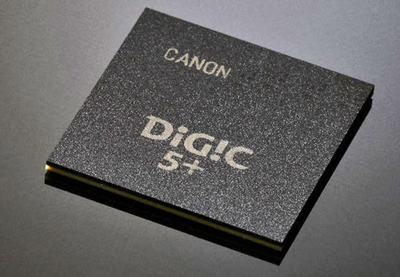 The Canon EOS 6D's 11-point focusing system is also entirely new. Instead of spreading 61 AF points across the frame like the Canon EOS 5D Mark III, the Canon EOS 6D features one cross-type sensor in the middle and ten additional points around the perimeter. This formation isn't too dissimilar to the Canon EOS 60D. The differences are the two additional points which are found to the left and right of the centre AF point and the fact that the Canon EOS 60D has a complimentary set of nine cross-type sensors, whereas the Canon EOS 6D only has one.
Metering is taken care of by Canon's 63-zone Dual Layer SPC metering system - the same as used before within the Canon EOS 5D Mark III, 60D and 7D. It offers the choice of four modes - Evaluative, Partial, Spot or Centre-weighted, and to preserve detail in bright highlights and dark shadows there's a High Dynamic Range (HDR) option available from the scene modes. Exposure compensation can be set to +/-5 EV in either 1/3 or 1/2 stop increments and auto bracketing offers a +/-3 EV range for two, three, five or seven shots.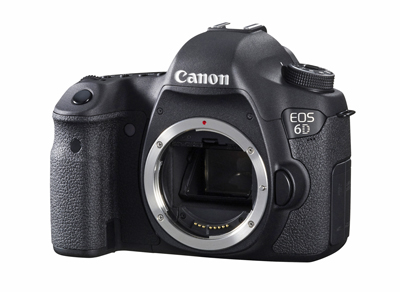 The optical viewfinder on the Canon EOS 6D provides 97% frame coverage, a 0.71x magnification and dioptre correction control. Interestingly, Canon has continued with its tradition of fitting its entire range of full frame DSLRs with fixed screens rather than opting to fit at least one with a Vari-angle display. The Canon EOS 6D's 3in Clear View TFT screen boasts a 1,040k-dot resolution and there's the option to apply Raw image processing straight from the playback mode. There's no dedicated button to star rate your images and instead this has to be carried out through the main menu.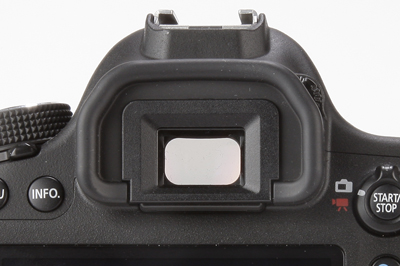 Two features that are likely to appeal to travel photographers are the Canon EOS 6D's inbuilt GPS and Wi-Fi functionality. Images can be tagged with coordinate data as they're taken before being uploaded to a smart phone or tablet. Although Wi-Fi connectivity isn't new technology on compacts and compact system cameras, its never been seen before on a DSLR. The Canon EOS 6D claims the title of being the first Wi-Fi enabled DSLR and for those who'd like to take advantage of it, a free Canon EOS remote app is available to download from the iTunes store. The good news is that it's compatible with both IOS and Android devices and features an uncomplicated, easy to follow design.
For the filmmakers out there, Full HD (1920x1080) video recording is available at 24 and 25fps. If you'd prefer to shoot at 50fps this is available too, albeit at a lower 1280x720 pixel resolution. Single movie clips can be recorded up to 29mins 59secs and there's a 3.5mm port at the side for connecting an external microphone. What the Canon EOS 6D is without though is an audio-out port for monitoring sound levels as you shoot.