Nikon D5200 review
Review Date : Thu, 24 Jan 2013
Author : Mike Topham
The Nikon D5100 was well received by beginners and mid-level enthusiasts. Can the new Nikon D5200 go one better or does it simply lower the price of its predecessor to make it more affordable? Read on to find out...
| | |
| --- | --- |
| Pros: | Impressive 39-point AF system; 5fps burst rate; Stunning image quality; Intuitive graphic user interface; Wi-fi & GPS supported |
| Cons: | Slow AF point positioning in Live View; lag when previewing creative effects in real time; No headphone port for audio monitoring; Noisy kit lens performance |
After a busy year refreshing their full frame lineup, Nikon has more recently shifted its focus towards renewing their DX-format DSLR's. The latest model to roll off the production line is the Nikon D5200, which slots into the gap between the entry-level Nikon D3200 and enthusiast Nikon D7000.
Up until recently, the Nikon D5100 has been the popular choice for beginners and mid-level enthusiasts who'd like a few more perks than the most basic DSLR in Nikon's range, offering a good blend of excellent image quality and impressive features at a reasonable price. The introduction of the Nikon D5200 raises two questions; has Nikon improved on an already successful model and do the latest features justify the extra expense?

Nikon D5200 review - Features
When the Nikon D5100 arrived on the scene, the main talking point was its 16.2MP sensor, which was lifted from the Nikon D7000. In keeping with the tradition of fitting a new sensor inside each new Nikon D5000 series of DSLR that's launched, the Nikon D5200 features a 24.1MP CMOS chip. Although the maximum 6000 x 4000 pixel output may share similarities to the Nikon D3200's 6016x4000 pixel resolution, the sensor the D5200 is built around is entirely new and offers a similar ISO range to the Nikon D5100. Before entering the Hi1 and Hi 2 settings, the ISO can be set between 100-6400. If a shooting situation calls for you to use a higher ISO it's possible to push beyond the native limit to settings that are equivalent to 12800 (Hi1) and 25,600 (Hi2).

Another development is the inclusion of an EXPEED 3 image processor. This latest processing engine is also found within Nikon's full frame DSLRs and allows the Nikon D5200 to shoot a continuous burst at 5fps - a 1fps improvement over the Nikon D5100. Adding to that, the processor promises to render colour extremely accurately and helps to enhance the cameras movie capabilities with it now being able to fully support full HD video at 60i and 50i frame rates.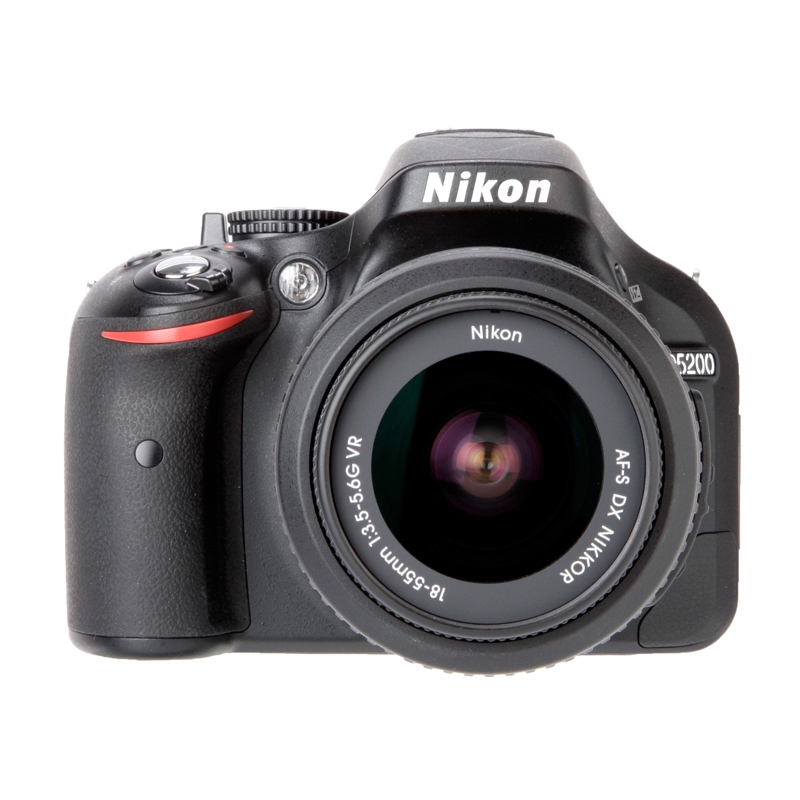 The Nikon D5200 is available in three colours - black, red or bronze. It's available body only or with Nikon's 18-55mm f/3.5-5.6 G VR kit lens.

The Nikon D5200 advances in other areas too. It incorporates a more complex 39-point AF system that offers a much-improved AF coverage across the frame. It uses the same Nikon Multi-CAM 4800DX auto focus sensor module that was first introduced into the Nikon D7000 and features nine cross-type sensors as opposed to the Nikon D5100's single cross type point in the centre. Though some people say you can never have too many AF points, there is the option to set the camera to an 11-point array from within the Custom setting menu, which can help move the AF target more quickly from one side to the other.

An invaluable feature for sports, action and wildlife photographers is the Nikon D5200's 3D focus tracking capability. Not only does it shift the focus point automatically to follow the movement of a subject in the frame, it's intuitive enough to forecast the position of the subject at the moment the image is captured based on the measurement of the subject's movement and speed. This predictive AF-area mode is supported by five other AF-area modes that include single-point AF, dynamic-area AF (9, 21 or 39 points) and auto-area AF. As for focus modes, there's a choice of four - auto-servo AF (AF-A), single-servo AF (AF-S), continuous-servo AF (AF-C), not forgetting manual focus.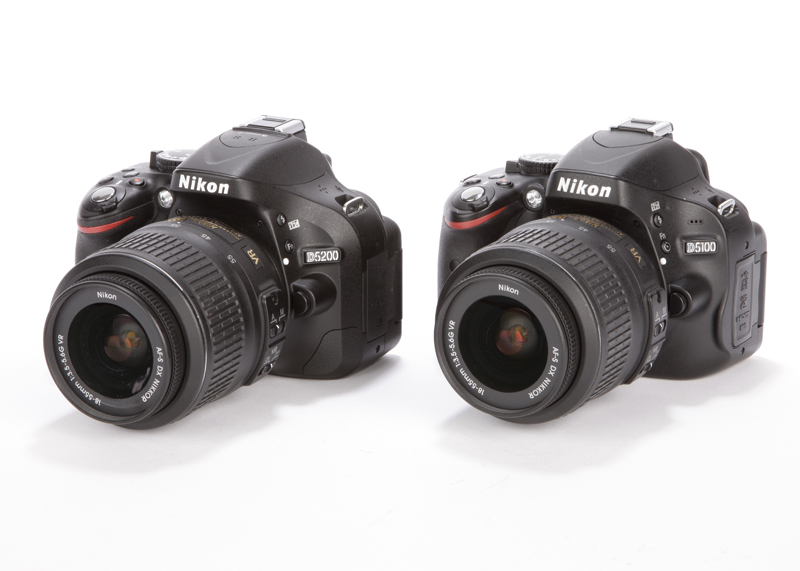 There are subtle differences in the design of the body between the Nikon D5200 (left) and the Nikon D5100 (right).
The Nikon D5200 also embraces the 2016-pixel metering sensor as used within some of Nikon's more advanced DSLR's. Both the D7000 and D600 use this tried and tested metering system and it's an example of a more advanced features slowly filtering down to more affordable cameras. Elsewhere, exposure compensation can be set to +/-5EV in increments of 1/3 or 1/2EV and there's the option to use it when creating video should the lighting situations change partway through a recording.
The Nikon D5200 differs to its entry-level cousins by featuring a vari-angle display. This aids high and low angled shooting but it's not a touch screen like Canon's EOS 650D - one of the Nikon D5200's key rivals. The screen measures 3in from corner to corner and has a 921k-dot resolution. 

Two inbuilt features that the Nikon D5200 sadly lacks are GPS and Wi-Fi. With more and more CSCs and DSLRs offering this connectivity built in as standard, you could say Nikon are slightly lagging behind the times. If these features are of interest, the Nikon D5200 will support them but you'll be required to spend more on the GP-1 GPS unit (£199) and WU-1a wireless mobile adapter (£49).
To make it attractive to moviemakers, the Nikon D5200 features an impressive full HD video specification. As mentioned earlier, there's 60i/50i recording at 1920x1080, which is backed up by 30,25 and 24fps frame rates. A point to note here is that the camera uses a central crop of the sensor area when recording in 50i. To help compose your video, an opaque border is displayed around the outer edge of the screen when this setting is selected. Movie files are captured in the user-friendly .MOV format using the H.264/MPEG-4 compression and when Live View is activated you're given the option to select full-time servo, which lets record and autofocus simultaneously. To add to all this, there's also onscreen audio monitoring and a 3.5mm port to attach an external microphone, however there's no audio-out port to monitor sound through headphones.