Nikon 1 V2 is unveiled
Review Date :
Author : Mike Topham
A couple of months after refreshing the Nikon 1 System with the J2, Nikon has announced the Nikon 1 V2.
Nikon has added to the Nikon 1 series by announcing the all-new Nikon 1 V2. The first camera in the family to be equipped with second-generation Nikon 1 technology, the Nikon 1 V2 benefits from all new features and enhancements to make it an even faster and more creative camera.

So what's new? Well for starters the Nikon 1 V2 has an increased resolution. The CX-format CMOS sensor it's fitted with provides a 14.2MP resolution - an improvement on the Nikon 1 V1 10.1MP resolution. With an ISO range that runs from 160 to 6400, the Nikon 1 V2 raises the bar by incorporating Nikon's next-generation EXPEED 3A dual-image processor. This is capable of processing images at 850 megapixel-per-second speed and ensures the camera can shoot at fast shooting speeds for those who'd like to capture action or sports.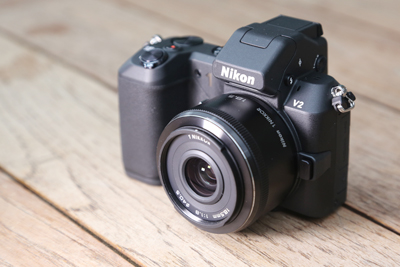 The Nikon 1 V2 can rattle out a 15fps burst in continuous autofocus mode. Alternatively, you can also shoot at 60fps when fixed-point AF is selected. Nikon claims 45 full-size images can be recorded at 15fps and approximately 40 full-size images will be able to be recorded at 60fps, provided the exposure for the first frame is fixed and not changed.
The Nikon 1 V2's hybrid AF system boasts a combination of phase-detection AF for high-speed movement and contrast-detect AF for low light situations. The sensor has been designed to recognise the type of AF method that's best suited for the situation and can automatically switch between the 73 phase-detection focus areas and the 135 contrast-detect focus areas the V2 offers.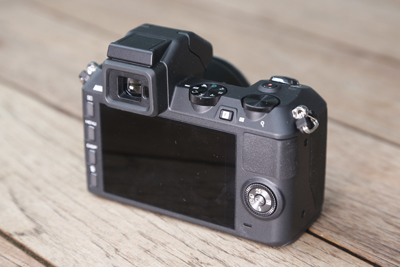 For moviemakers, Full HD video can be recorded at 60 and 30fps and 60i, 60p and 30p frame rates. Full control over shutter speed and aperture is available when making videos and the new command dial on the top plate is intended to make changes to settings much easier. There's a mode dial on the top plate that offers direct access to exposure modes and a feature that's not been seen before is the Slow View mode which captures up to 40 full-resolution continuous shots before displaying them all in slow motion on the screen so you can decide on the precise frame you'd like to keep.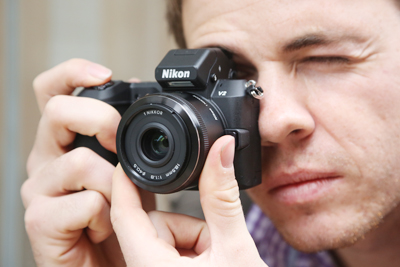 There were rumors suggesting that the Nikon 1 V2 might offer in-built Wi-Fi connectivity, however Nikon has made it capable of wireless image transfer by making it compatible with Nikon's WU-1b wireless mobile adapter. After downloading the wireless mobile adapter utility from Google Play or the App store to your smart phone or tablet, you'll be able to transfer stills and videos directly to your smart device without the need of any cables.
Aimed at enthusiasts looking for a robust CSC, the Nikon 1 V2 features refinements to its build. A magnesium alloy front cover gives it a solid feel in the hand. The newly developed shutter unit for the V2 is tested to 100,000 cycles and above the screen there's a 1,400k-dot electronic viewfinder. Ahead of this is the inbuilt flash. On the subject of flash, Nikon has also launched the new SB-N7 speedlight at the same as the Nikon 1 V2, which boasts a guide number of 18 and a 120-degree tilt movement.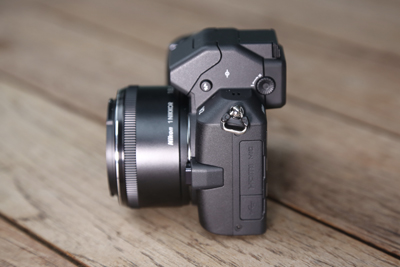 Not forgetting that the Nikon 1 V2 is part of Nikon's evolving Nikon 1 system, the range of 1 NIKKOR lenses is also going to be exapnded. Although no images of the three lens announcements have been released, the three new Nikon 1 lenses we can expect to arrive in early 2013 include the 1 NIKKOR 32mm f/1.2 prime lens, 1 NIKKOR 6.7-13mm f/3.5-5.6 wide-angle zoom and 1 NIKKOR 10-100mm f/4-5.6. The addition of these three lenses will bring the total in the Nikon 1 system up to nine.
Expected to be on sale from the 22nd November, the Nikon 1 V2 will cost £799 with the 10-30mm kit lens in either black or white. Alternatively, the Nikon 1 V2 will be available in a twin lens kit (10-30mm and 30-110mm) for £969.
Make sure you check back to What Digital Camera.com for the full review.