Nikon D3100 review
Review Date : Thu, 4 Nov 2010
Author : Mike Lowe
Nikon D3100 Review - The Nikon D3100 looks to raise the bar for entry-level DSLRs. But just how good is it? What Digital Camera's Nikon D3100 review digs below the surface to try and find out...
| | |
| --- | --- |
| Pros: | Guide mode, featured specification |
| Cons: | Price, no DoF preview, no focus switch |
The entry-level DSLR market has been relatively unstirred of late. That is, until the recent release of the Nikon D3100.
With an impressive specification, this new model replaces the Nikon D3000 and pitches itself as the ideal first-time buyer's DSLR. But does the D3100 truly raise the bar of expectation for entry-level models? Find out in out D3100 test...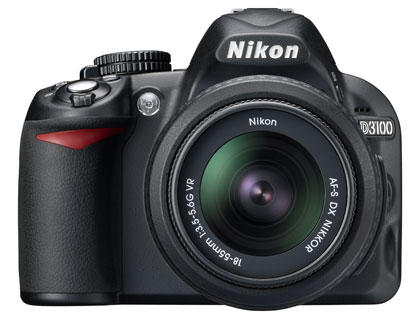 Nikon D3100 review - Features
The Nikon D3100 is the first release of Nikon's latest generation of DSLR cameras. A brand new 14.2MP CMOS sensor raises the resolution over previous generations and the sensor is now capable of capturing Full HD 1080p movies at a cinematic 24 frames per second (fps) too. It's out with the old and in with the new as this is now captured using H.264 compression, not the previous (less favourable) Motion-JPEG format that Nikon DSLRs had been using.
A 3in, 230k-dot LCD screen sits to the camera's rear for real-time live preview and playback, which is supported by a 95% field of view optical viewfinder just above this.
The proven 11-point Multi-CAM 1000 autofocus system as found in the previous D3000 model still features and offers a variety of AF Area modes, including Wide AF and 3D subject tracking.
Shooting in low light needn't be a problem either as the new Expeed 2 image-processing engine means sensitivity is increased to ISO 3200 as standard. Hi1 and Hi2 extended options provide full resolution at equivalent ISO 6400-12,800 and the addition of an AF-assist lamp is further assurance that you'll get the shot in the bag.
Continuous shooting can whirl off images at up to 3fps whether shooting JPEG, Raw or both simultaneously and the addition of a new Quiet Shutter option (as per the Nikon D300s) separates the shutter sound and mutes all the camera's beeping sounds for those more discreet situations.
First time help
The coveted Guide mode makes it easy for first-time users to read through menus and options in plain English to help their photographic learning along, but the D3100 is far more fruitful than just a beginner's camera. Outside of the Guide option, the usual manual shooting modes also feature, alongside a number of Scene modes and an Auto setting for those looking for point-and-shoot operability.