Panasonic Lumix DMC-GH4 Review
Design
Panasonic Lumix DMC-GH4 Review - Design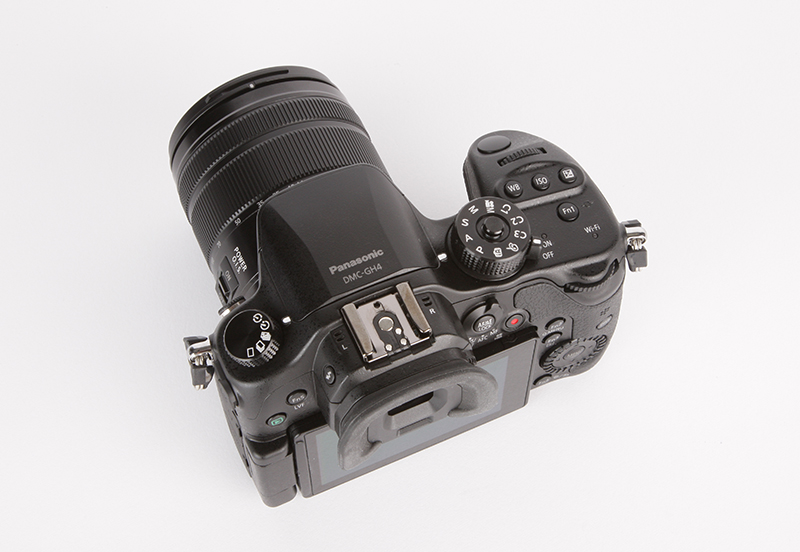 In terms of build, the GH4 is essentially a chunkier and heavier version of the GH3. It feels more solid in the hand, and a lot of this is to do with the metallic chassis.
It's a pleasing effect on the whole - at 560g the camera's weight isn't exactly wrist breaking, and the result is a machine that has reassuring solidity to it.

This is augmented by the fact that Panasonic has carefully sealed every button and potential place of ingress on the GH4, making a camera that is durably splash proof.
This provides some much-welcomed peace of mind when taking the camera out shooting - you needn't have any fear of whipping out the GH4 in a wet environment, or of shooting without one eye on the gathering clouds overhead.

Also worth mentioning is the speckled finish on the frame. It may be only cosmetic, but it really adds to how the camera feels.
You could say in fact that camera's feel is probably one of the most important aspects of the GH4's design - not for nothing does it so closely resemble a DSLR in looks and style.
The rubberised grip contributes to this. It's a perfect size for most medium or large sized hands, sitting neatly in the palm and allowing easy, quick access to the vast majority of the vital controls.
Customisable controls
The GH4 is equipped with five customisable function buttons. One could argue that this is maybe a couple too many, likely to be intimidating to the novice user, a view borne out by the fact that some of them aren't particularly well placed. Fn1, on the camera's top plate feels too far inset, and Fn4 is just uncomfortable.

One suspects that no-one really would have minded if Panasonic had taken a more prescriptive approach with the GH4's controls - not everyone minds being guided in how to operate a camera, and too much choice can be paralysing.
Did we really need so many customisable buttons when every function that's going to see regular use (ISO, white balance, exposure compensation, etc.) has its own dedicated button, switch or dial? Maybe not.