Olympus E-P5 Review
First Look
The Olympus E-P5 serves as a direct replacement for the two-year-old E-P3 model, and combines the same 16.1MP sensor and TruePic VI processing engine as the flagship OM-D E-M5 model. It also benefits from that camera's sensor-based 5-axis Image Stabilization system to help maintain sharpness in images.
The Olympus E-P5 is the first Olympus CSC to sport built-in Wi-fi - a feature previously only available through Toshiba FlashAir Wi-Fi and Eye-Fi cards. This allows for the wireless transmission of images to other Wi-fi-enabled devices and the internet, and through a dedicated app it's also possible to use a smartphone or tablet for remote shooting, a feature which has already been seen on other CSCs such as those within Samsung's NX series.
Furthermore, in lieu of a GPS system inside the camera itself, the app can record a GPS log and subsequently add this to images for the purpose of geotagging. Olympus has stated it will provide a version of the app for both the iOS and Android platforms.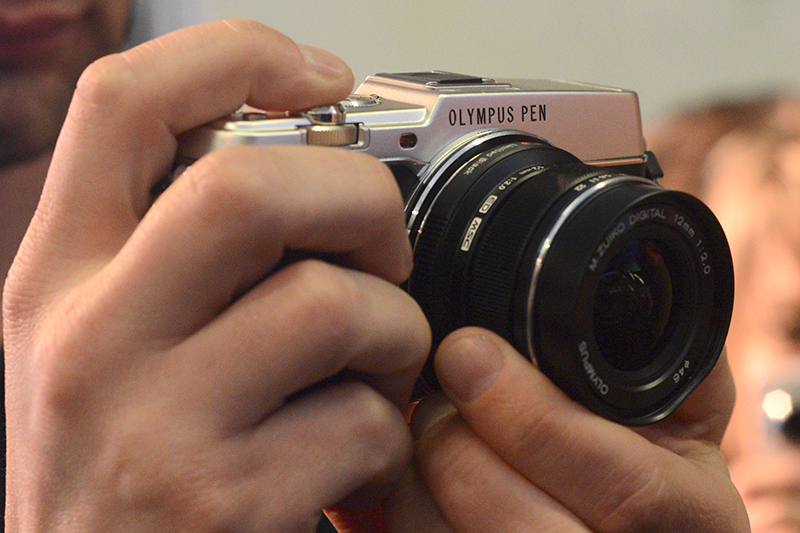 The company also claims the Olympus E-P5 to be the first Compact System Camera to achieve a 1/8000sec shutter speed through a mechanical shutter, as opposed to the electronic alternative used in models such as Nikon's V2. The model also boasts a high sync speed of 1/320 for the internal flash, which drops to 1/250sec when an external flash is used.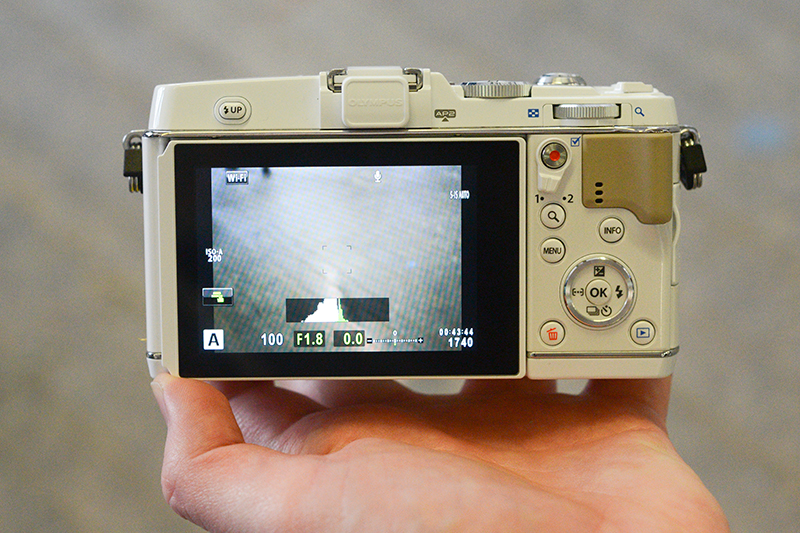 The Olympus E-P5's previously seen FAST AF system debuts a new Super Spot AF option, which allows the focus point to be minimised by up to 14x times, resulting in it covering just 1/70th of the screen's diagonal. This makes it potentially very useful in situations when a larger focusing area may miss a particularly small subject.
Focusing can also be performed through the camera's 3in capacitive touchscreen display, which at first glance also appears to be borrowed from the OM-D E-M5. It is, however, based on LCD rather than OLED technology, and has a resolution of 1.04million dots next to the OM-D E-M5's 610k dots.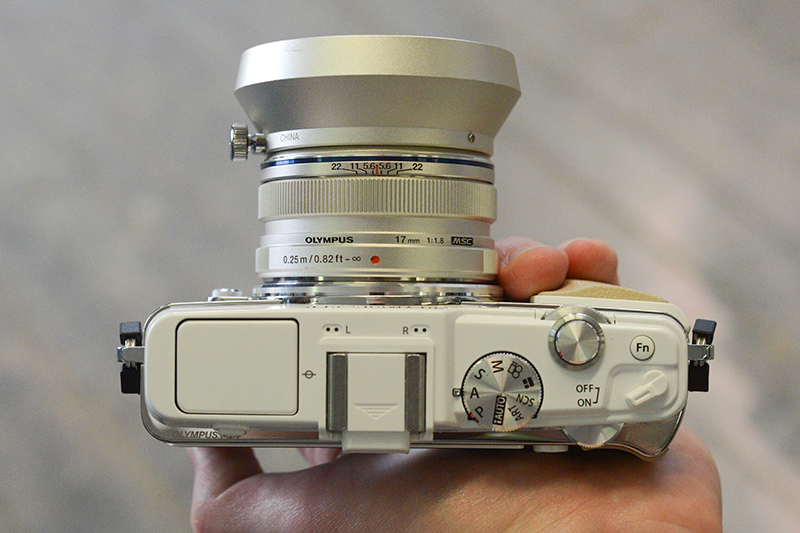 Aside from its functionality, Olympus is keen to emphasise how the E-P5 has been developed with design and operation in mind. With a styling heavily influenced by the Pen F film camera, the all-metal body boasts front and rear command dials, the functions of which can be changed at the flick of a lever on the rear. There's also a defined grip around the front and a rubbered thumb rest around the back, with further grip options available should you wish to customise the camera.
New viewfinder
Announced alongside the Olympus E-P5 is a new VF-4 electronic viewfinder. As with the previous VF-2 finder it boasts a free-angle design, which allows the eye-piece to be rotated upwards, although its resolution is significantly higher at 2.36million dots (compared with the VF-2's 1.15million dots).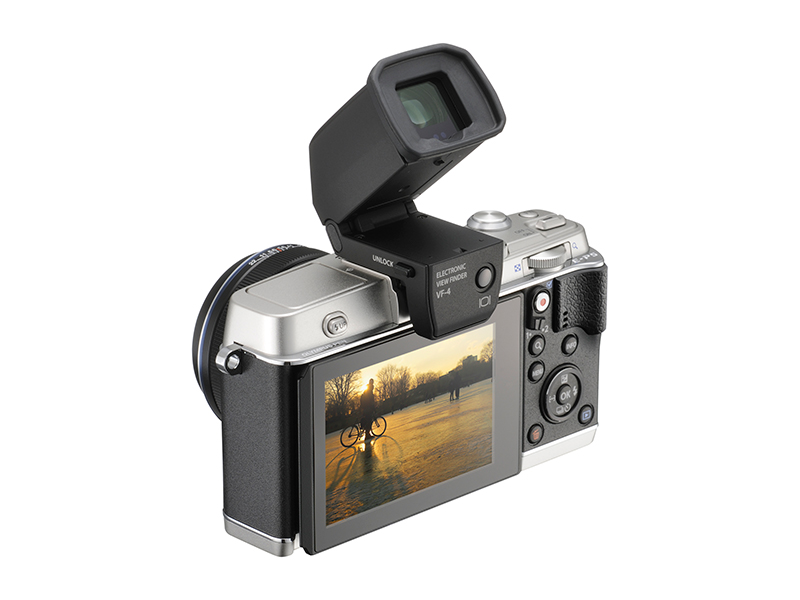 Its lag time is said to be as short as 0.032 seconds - which potentially makes it suitable for action photography - and Olympus also claims that it only takes 0.4 seconds for the camera to alternate between the viewfinder and camera's rear display, thanks to its sensitive built-in sensor.
The viewfinder's other draw is its 1.48x magnification (0.74x in 35mm-equivalent terms), which is said to be more generous than the viewfinders on all other CSCs and APS-C DSLRs. Olympus is also said to have paid attention to its optical design to ensure images remain free from distortion.
First impressions

We managed to get our hands on a pre-production sample of the Olympus E-P5 to gain a better understanding of its operation and performance. Although the full production samples are likely to have minor revisions to optimise image quality and performance, it was still possible to get a good idea of what the camera looks set to deliver.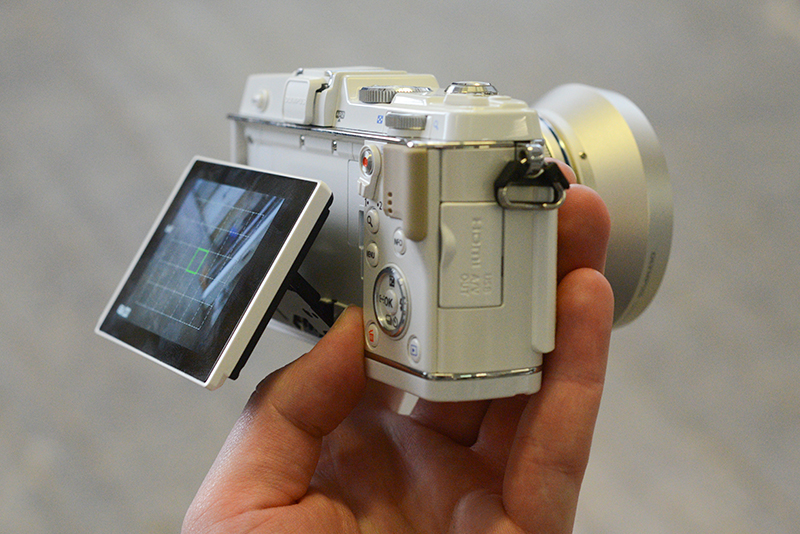 The first thing you notice about the Olympus E-P5 is its size; possibly thanks to the articulation of the rear display it's a little on the bulky side, which may not please everyone. Comparing specifications shows it to be just a few millimeters thicker than the E-P3 it replaces, which doesn't sound like much, but is nevertheless noticeable on such a relatively small camera. Of course, some may prefer its size next to smaller CSCs, given the impact this has on its handling.
Indeed, general handling and operation are positive. It's great to have a dedicated thumb rest, which means the thumb doesn't need to rest on either the side of the display or over any buttons as on other CSCs, and with it being rubbered and curved to the edge it's easy to hold the camera securely. The dials move freely and are large enough to get a decent grip, both of which make light work of changing exposure parameters.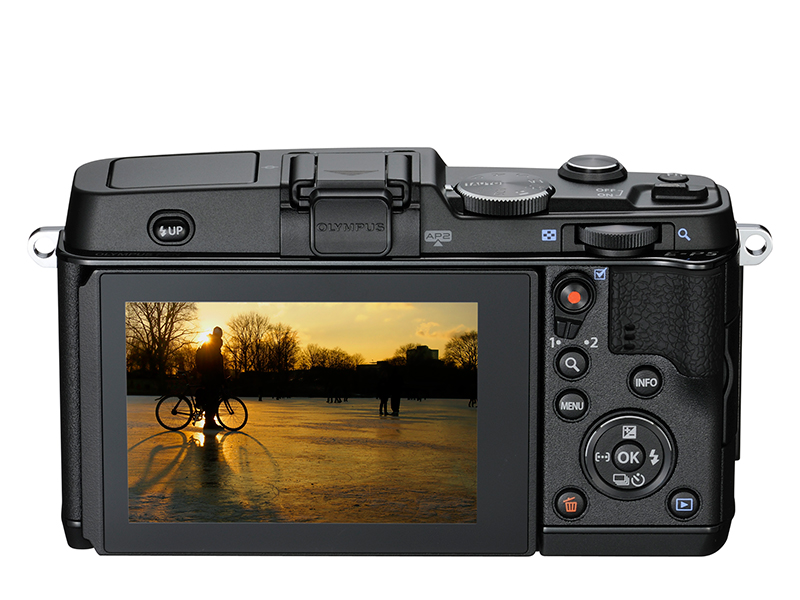 The Olympus E-P5's FAST AF focusing system appears to live up to its name, with only a slight bounce back and forth before focus is confirmed. Our brief time with the camera didn't allow us to test it fully in a variety of conditions, or with different lenses, and naturally focus times will vary with both, but in both fine and moderately-lit conditons its speed is unlikely to disappoint. Given that the camera's firmware is not yet final there's every possibility this will be even more prompt on full production samples.
The camera's rear display also appears to be pleasingly sensitive when set to focus by touch, needing only a gentle press to kick it into action. The display's clarity and contrast appear to be similar the OLED panel on the OM-D E-M5, with an equally wide viewing angle too. Indeed, it's easy to assume both are the same, despite being based on different technology.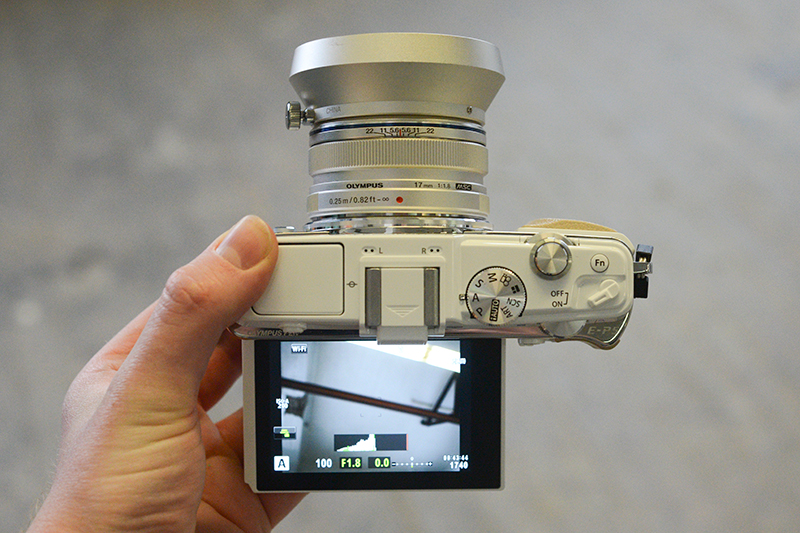 Conclusions
Overall we're impressed with what the Olympus E-P5 has to offer, particularly with regards to its focusing system and rear display. Although a UK RRP is yet to to be announced, it looks likely to be a more affordable alternative to the company's OM-D E-M5, while still offering that camera's key desirable attributes. We'll have a full review of the camera as soon as full production samples become available.