Panasonic Lumix GF6 Review
Design
Panasonic Lumix GF6 Review - Design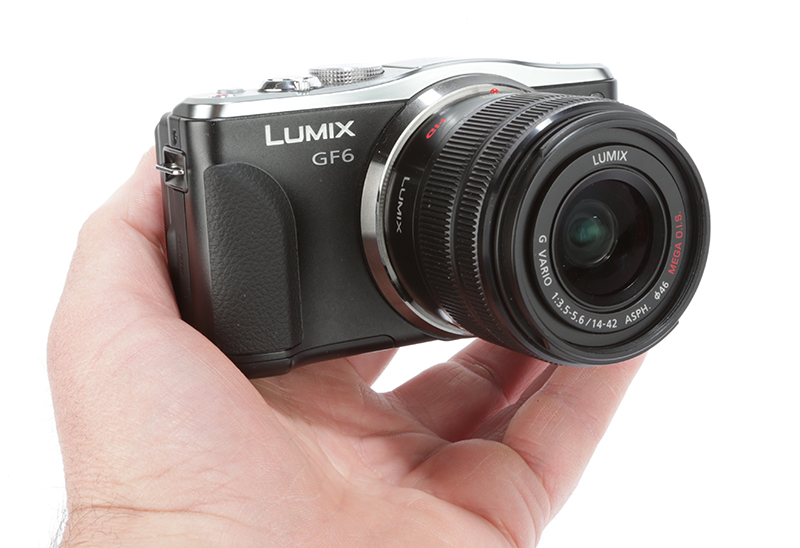 Small form-factor CSCs have become very popular over the past couple of years, a style that Panasonic pioneered with the original GF1, launched in 2009. The Lumix GF6 continues this trend, with a very compact design that manages to squeeze a lot of camera into a very small space.
It measures 111.2 x 64.8 x 38.4 mm, which compares well with other similar cameras such as the Sony NEX-3 (109.9 x 62 x 34.6mm). It is a fairly heavy little thing though, and at a chunky 291g it's the heaviest camera in its class. This is due mainly to the metal body, which gives the GF6 a pleasantly solid feel. Oddly however the metallic-coloured top panel is actually made of plastic.
The Panasonic Lumix GF6's handling is good despite the small size, with a small but comfortable grip on the front and a rubber thumb rest on the back. The controls are sensibly positioned for easy use one-handed and are mostly clearly labelled, although the white-on-silver labels on the D-pad are hard to see.
The buttons and dials feel solidly mounted and operate with a nice positive feel; my only complaint is the "iA" panic button, which is positioned in such a way that it is very easy to press accidentally. It's not a major problem, since the iA mode usually produces good results anyway, but it is a minor niggle on an otherwise well designed camera.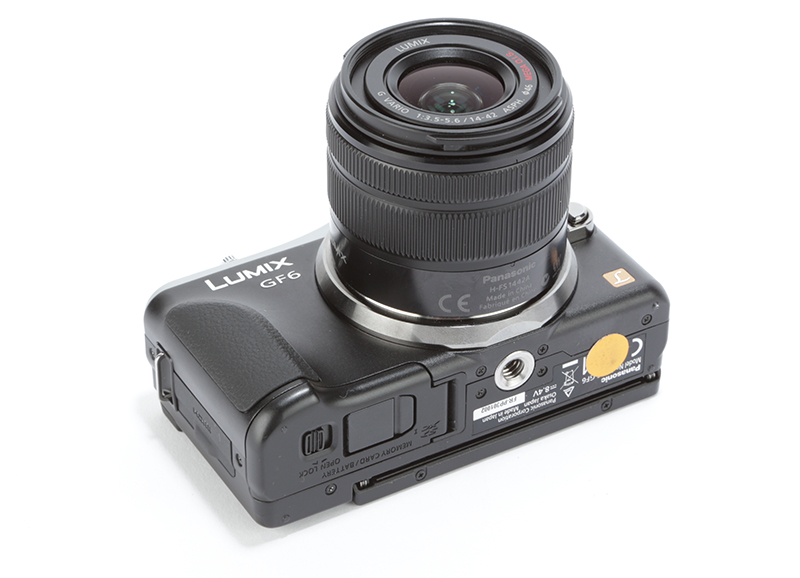 Minor details

The rest of the GF6's design shows Panasonic's usual attention to detail. The tripod bush is positioned correctly under the centre-line of the lens, unlike some other manufacturers (Samsung, I'm looking at you!), and the hatches over the battery and cable sockets, while plastic, are robust and tight fitting.
The GF6 has a pop-up flash that is manually activated by a small button on the rear of the top panel. It's mounted on a sprung linkage and does fly out with quite a snap, but it's solidly mounted and the flexibility of the linkage does mean that it's possible to manually tilt the flash back and get bounce-flash effects.
One big (or should that be small?) advantage of the Four Thirds sensor format is the smaller lens sizes that it allows compared to APS-C cameras, and the GF6 comes in a kit with a rather lovely little 14-42mm f/3.5-5.6 standard zoom lens that is much smaller and lighter than the kit lenses supplied with its Samsung and Sony rivals.
Despite that size difference the lens is of exceptionally high quality, as you'll see in the image quality section later.