Sony QX100 Review
Design
Sony QX100 and QX10 Review - Design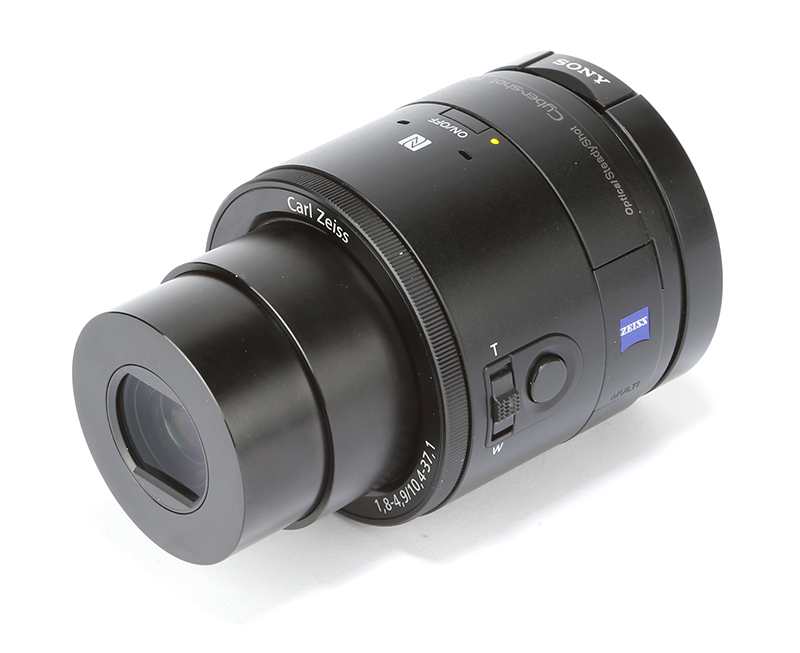 The design of the QX models is very clever and there's a removable collar at the rear that enables access to the battery compartment where the Wi-fi network name and password are located to connect the camera. In addition, the collar doubles up as a clamp and after the two fold out flaps have been pulled out it allows you to attach the QX10 or QX100 to any smartphone, provided it's no wider than 75mm.
Attaching the QX to the back of a phone and using it this like this feels a bit odd the first few times you use it, but there will be some who prefer using it this way as it gives the option to support the lens slightly better in your left hand.

The good news is the QX10 and QX100 are very light, making them easy to carry and transport. On the scales they weigh 105g and 179g respectively, so there's no sense of either model pulling the front of a smartphone down or making it feel unbalanced when they're attached.
Wi-fi and NFC
The Wi-fi and NFC functionality opens up the opportunity to connect the QX models to a smartphone even when they're not physically connected, leaving your smartphone to be the viewfinder and the QX module to shoot and record the images. Operating them from up to 10 metres away while still being able to take control from a smartphone opens up numerous opportunities.
If you'd like to setup the camera to shoot a subject without disturbing it you can easily do so, or if you'd like to shoot from angles or positions that don't lend themselves to a compact or DSLR being used you can do that too - provided of course you're working within the Wi-fi range.

To help mount the QX cameras to tripods or other mounting devices, Sony has added a tripod bush at the bottom and there's a diminutive LCD display on the side of the barrel that indicates if a Micro SD memory card is installed and how much battery life remains.

In terms of their build quality, neither the QX10 nor QX100 are as robust as a GoPro Hero 3 or Liquid Image EGO sports camera, but then again these cameras aren't designed for this purpose, or for the type of photographer who regularly ventures off limits.
Their plastic construction doesn't offer any form of rubber grip so some careful handling will be required when they're used handheld and not connected to a smartphone. Although the lenses contract when they're switched off and feature automatic lens covers, there's minimal protection if they were accidentally dropped, so users will want to make sure they use the wrist strap that attaches to the lens barrel.

On the barrel of the QX10 and QX100 is a zoom lever and shutter button, both of which are well positioned for operating with the thumb when they're attached to a smartphone. Alternatively, the shutter and zoom can be controlled by the smartphone, but to do this you're first required to install Sony's free Play Memories app that's available from the iTunes store for iOS devices or from Google Play for Android. It's worth pointing out though, Windows phones such as the Nokia Lumia 1020, are not supported.