Canon EOS 70D Review
Review Date : Wed, 4 Sep 2013
Author : Phil Hall
The Canon EOS 70D is the most eagerly awaited DSLR of the year so far. Find out how good it is in the What Digital Camera Canon EOS 70D review...
| | |
| --- | --- |
| Pros: | Dual Pixel AF sensor delivers the best AF performance for a DSLR during live view; 19-point AF system is excellent; High quality touchscreen interface; Image nosie performance; Solid constructino; Wi-fi connectivity |
| Cons: | Creative filters only active during live view (and JPEG only); AWB can deliver too neutral results on some occasions. |
The Canon EOS 70D is the most anticipated DSLR of the year, and is the latest model in Canon's double-digit DSLR range.
Since the 6.3MP EOS 10D back in 2003, Canon's double-digit EOS DSLRs have been a firm favourite amongst enthusiast photographers. The EOS 60D currently bridges the gap between the EOS 700D and 7D in the Canon line-up and offers plenty of features that provides photographers with a natural upgrade option from their entry-level triple-digit EOS camera.
The arrival of the EOS 70D shakes things up a little, offering a specification that in many ways puts its highly regarded but ageing sibling the 7D in the shade, but at a more attractive price point. Is this the perfect DSLR for photographers looking to expand their hobby even further?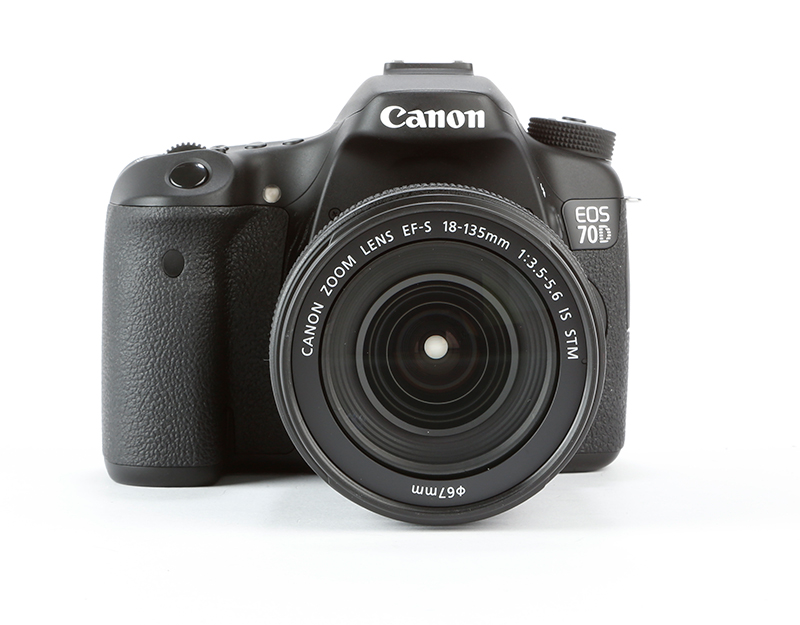 Canon EOS 70D Review - Features
Since the arrival of the EOS 7D back in late 2009, every Canon DSLR with an APS-C sensor has used an iteration of that 18MP sensor and it's been a very solid performer.
It's all change for the EOS 70D though, with a completely new 20.2MP Dual Pixel CMOS AF sensor at the heart of the camera and the headline feature of the 70D. As the name suggests, this is more than a simple bump up in resolution to compete with ever higher-resolving rivals, with Canon's engineers developing some very clever technology that promises to deliver a vastly improved AF performance in both live view and movie recording.
This is an area where traditional DSLRs have struggled to perform, with focus speeds often quite slow and hesitant when acquiring focus. This is due to a DSLR's inherent design characteristics that sees a slower contrast-detect method of AF acquirement used during live view and video capture, as opposed to the snappier phase-detect AF system used when the camera's raised to the eye and the mirror is lowered.
This contrasts sharply with most system cameras that that have a noticeable edge over their DSLR counterparts during live view focusing because despite relying solely on contrast-detect AF acquisition (with the odd exception), system cameras benefit from being designed specifically to use the sensor to provide AF information. Paired with lenses that have been optimized for this method of focusing, this is why system cameras in general focus a lot faster during live view shooting than a DSLR does.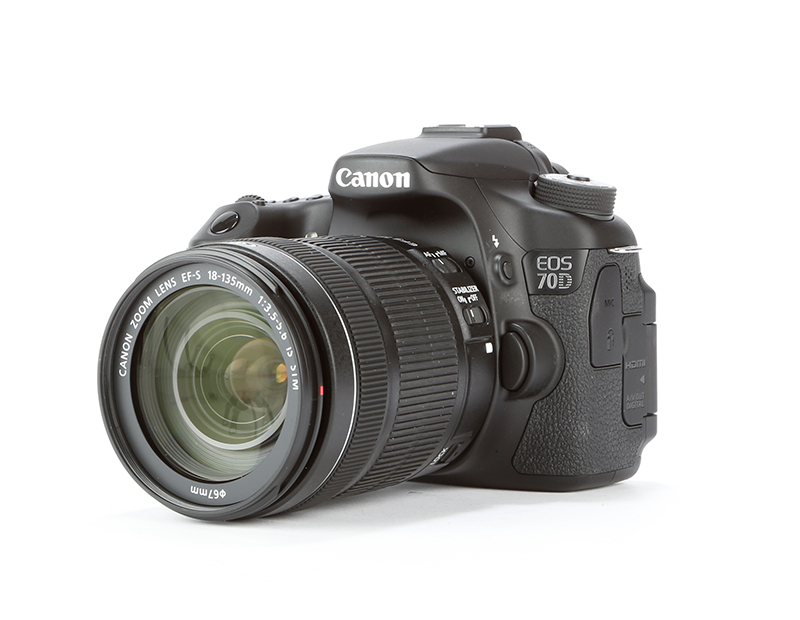 On-chip Phase Detection

To overcome this issue the Canon EOS 70D's new 20.2MP sensor accommodates on-chip phase-detection AF. Nothing new there perhaps, with this technology first being used on Fujifilm's FinePix F300 compact back in 2010 and adopted by other manufacturers since then to improve the performance of systems during live view.
The big difference though is that the 70D's sensor uses two photodiodes for each pixel, rather than pairs of pixels that are masked to get a rough approximation before contrast detect AF takes over to fine-tune focus. This results in the 70D's phase-detect system being accurate enough to do away with the need for contrast-detect AF during live view, while it should work at apertures as low as f/11 and in lighting conditions as low as 0 EV.
Not only that, but the saturation of the 70D's phase-detect photodiodes on the sensor is much better. In the past on-sensor phase-detect coverage has been quite sparse and offering very minimal coverage across the sensor. The 70D's 20.2MP Dual Pixel CMOS AF sensor on the other hand is active across 80% of the frame by width and height. Incidentally, every pixel features dual photodiodes but the coverage has been restricted to 80% to ensure greater accuracy.
But the 70D is not just intended to be used in live view mode or as a movie camera, and for possibly the majority of the time when the camera's raised to your eye, photographers will have the added benefit of an advanced 19-point all cross-type AF system that's been transferred across from the 7D and a big jump over the 60D's relatively moderate 9-point all cross-type arrangement.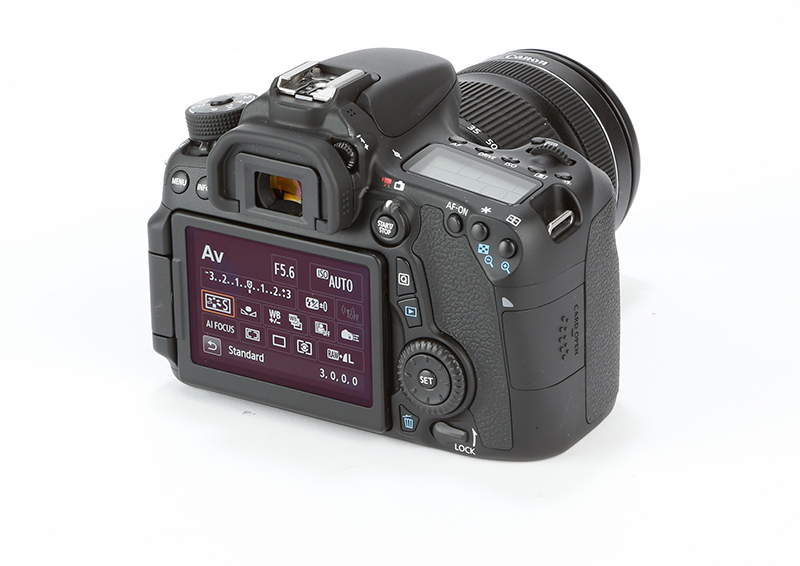 Image Processor

The Canon 70D's image processing engine is the same DIGIC 5+ processor as we've seen in the EOS 5D MkIII, which helps to deliver a burst shooting speed of 7fps and an ISO range of 100-12,800, which can be expanded to an ISO equivalent of 25,600 is required.
The 70D's optical viewfinder offers a coverage of 98% and a magnification of 0.95x, as well as offering an electronic level display and gridlines. The rear screen is borrowed from the 700D, with the 3in, 1040k-dot resolution touch-sensitive display hinged at the side, allows it to be pulled out, tilted and swiveled that'll suit a broad range of shooting angles.
The built-in flash on the 70D offers a guide number of 12, while it also doubles as an Integrated Wireless Transmitter, offering off-camera flash control for compatible Canon-fit flashguns if desired. The 70D also offers a decent flash sync speed of 1/250sec and for general shooting, can shoot at shutter speeds up to 1/8000sec.
With the growing trend for Wi-fi connectivity in cameras, its no surprise then to see that the Canon 70D offers built-in functionality, offering photographers the freedom to control the camera remotely from a smart phone or tablet that's running Canon's EOS remote app, while images can be transferred and shared easily.
As you'd expect for a camera that's had a lot attention applied to the AF performance during live view and movie recording, the video specs shouldn't disappoint. Full HD video can be captured at 30, 25 and 24p as well as 60 and 50p at HD. The 70D provides full control over shutter speed, aperture and ISO, while there's also connectivity for an external microphone.