Nokia Lumia 1020 Review
Image Quality
Nokia Lumia 1020 Review - Image Quality

The main purpose of the 1020's camera is not to produce enormous 38MP image files, but to produce outstanding 5MP ones. However, the fact that you can have both means we need to look at both. The 5MP images are quite simply in a different league to the output from your typical camera phone.
At low ISOs images are very clean and sharp with virtually no sign of noise. Fine details that you wouldn't expect to see, such as the individual hairs on a dog, or the window panes of an office block on the horizon, are clearly visible. Our MTF charts indicate that there is a marked fall off in sharpness towards the edges of the frame but in real world shooting there are few situations where you would notice this.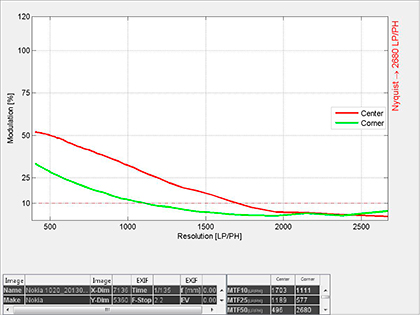 This graph shows the difference in sharpness between the centre (red line) and edge (green line) on the Lumia 1020. Ideally these lines would be closer together.
Using the digital zoom still produces excellent results up to 3x magnification, at which point you hit native resolution, and while images are a little less crisp than without the zoom they're still superior to the images from many competitors' unzoomed images, and once you start zooming on rival phones the image disintegrates much moreso than the 1020's do.
In low light the Nokia seems reluctant to go above ISO 800 in auto mode, preferring instead to use a slower shutter speed and give the Image Stabilisation system some exercise, and at this level noise is still low enough to ensure that image detail is still remarkably good, with even fine text and the texture of brickwork easily discernable. Switching manually to speeds above ISO 800 and noise becomes much more visible, but is still very good at ISO 1600. Even at ISO 3200 images are noisy but usable. It's fair to say that this is the best low light performance we've seen on a phone.
The main limitation of the 5MP file is its maximum size - just 22x16cm at 300ppi, though you'll have no trouble at all getting a decent A4 print at 225ppi, and few people print beyond that size. Switch to the 38MP version though and you have an image file capable of a 60x45cm print at 300ppi. Viewed on a PC at 72ppi it would require a screen 2.5 metres wide to see the entire image at 100% magnification.
Exposure, Colour and Dynamic Range
Shooting in a wide range of conditions - inside and out, in sun, fog, rain, into the sun, and at night - failed to trip up the Nokia Lumia 1020's exposure metering, which unerringly turned in a pleasing interpretation of every scene it was confronted with. Colours are punchy if bordering on oversaturated for some tastes, though well within what most consumers would prefer.
The white balance was also generally accurate, though there was an occasional tendency to boost the yellow in warm light and produce a slightly cool result in overcast light. The Lumia 1020 has the widest dynamic range of any phone that we have yet tested, with our IQ Analyser tests turning in a figure of 9.46 stops. (This compares with the iPhone 5's 7.83 stops for example).
This means that it retains details in shadows and highlights that many other phones would lose, but our experience indicates a slight bias towards the former in high contrast situations where only one can be saved. One minor disappointment is that there is no decent way to manipulate this within the device. There's no HDR mode (you'd think that would be something they could add to the Smart Cam's repertoire) and only a crude contrast slider in the editor.
Video
The Lumia 1020 gives you a choice of resolutions and frame rates and at the highest settings the video quality is very good, with saturated colours and lower than expected noise levels in low light. The image stabilisation does a reasonable job of smoothing out moderate movement but won't perform miracles if, for example, you're doing something like mountain biking. Although there are fewer manual controls than with stills its still possible to manually adjust the white balance or switch to manual focus to avoid any focus hunting during recording (though the AF is generally fairly good).
Sample Video clip
: