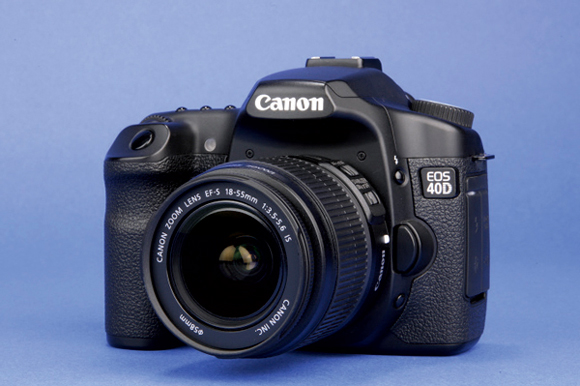 Canon EOS 40D
Price: £200 body only
Although a veteran in the Canon line-up, the EOS 40D still packs a punch
Data file
Sensor 10.1-million-pixel, APS-C-sized CMOS
Focus points 9
ISO range 100-3200 (extended)
LCD 3in, 230,000-dot-resolution TFT display
Drive 6.4fps
Weight 822g
Memory card CF
Size 145.5 x 107.8 x 73.5mm

Launched in 2007, the Canon EOS 40D is a distant predecessor of the current Canon EOS 70D. Upon release it was pitched as an advanced enthusiast DSLR sitting above the entry-level Canon EOS 400D and below the semi-professional Canon EOS 5D. The EOS 40D can now be picked up for around £200 body only and just £300 with a Canon EF-S 17-85mm f/4-5.6 kit lens.
At the heart of the camera is an APS-C-sized, 10.1-million-pixel sensor that is capable of capturing 14-bit raw files as well as JPEGs. A modest native sensitivity range of ISO 100-1600 is offered, which is expandable to ISO 3200. Although not a huge range, for many situations this should be ample and the resulting images are detailed and clear. The EOS 40D can shoot at a respectable 6.4fps, and it can write a total of 75 consecutive Large/Fine JPEGs to the CF card. This makes it an interesting option of anyone wanting to shoot wildlife and sports images.
However, while the frame rate is enough for this kind of shooting, the nine AF points featured will limit the camera somewhat. Having said that, the autofocusing is reasonably fast considering its age.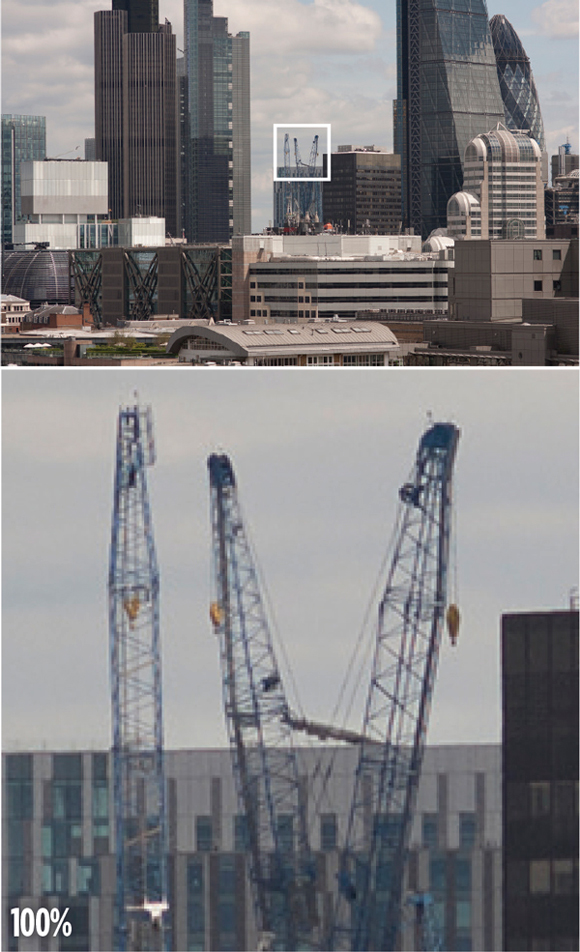 Resolution
The Canon EOS 40D has quite a respectable resolution of 24lp/ph, which is as you would expect for a DSLR with a 10.1-million-pixel resolution. Slight moiré patterning is visible with the typical rainbow band of colour, though it is not as prominent as in the Pentax K-r.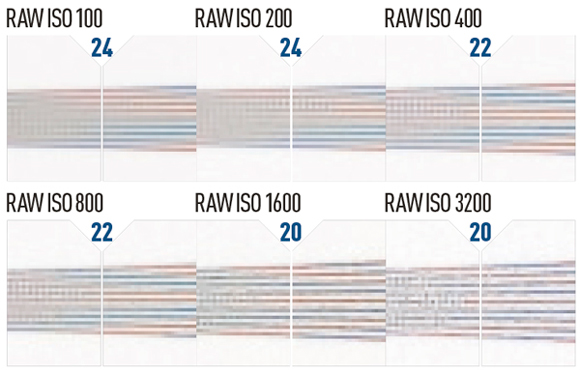 Dynamic range
At ISO 100, the Canon EOS 40D has an acceptable dynamic range of 12.11EV, which drops just fractionally to 11.98EV at ISO 200. In fact, even at ISO 400 it is still 11.21EV, only dropping significantly to 9.77EV at ISO 800. The dynamic range of the EOS 40D is certainly still acceptable, even if the camera is a few years old.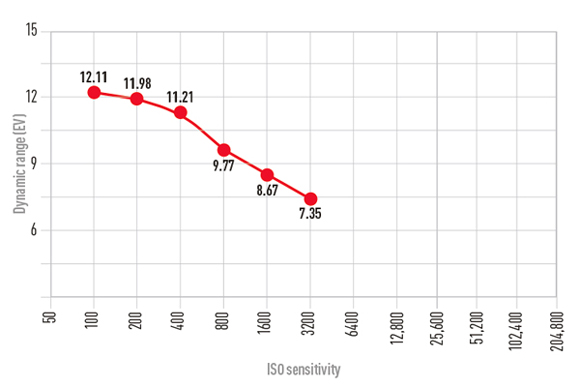 Noise
The Canon EOS 40D controls noise very well throughout its range. Once again, the raw files have default Adobe Camera Raw noise reduction applied, so there is even room for further improvement. Modern noise reduction software can clean up the noise much better than it could when most of the cameras on test were originally released.