Released within weeks of one another, the Nikon D7000 and Canon 60D both set new DSLR benchmarks. Since the announcement of each we've seen endless comparisons between the pair and watched the Internet's forum fields light up like wildfire with regards to which is the better of the two. To settle the feud we've got hold of both cameras and pitched them together in a head to head showdown...
Canon EOS 60D vs Nikon D7000 - Features
Found in the upper echelons of the consumer range, both models come very well specified. On the cusp of professional specification this category is fiercely fought, though the approaches of the Canon and Nikon models are both fairly different: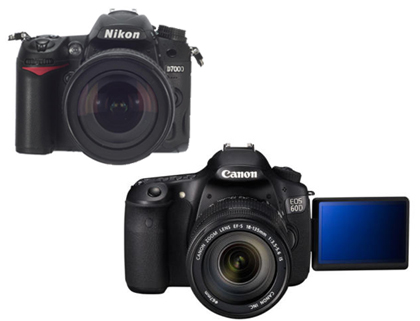 The 60D has a 3in, 1,040k-dot vari-angle LCD screen that can be used through a variety of angles and is the only DSLR camera at this level to offer such a feature. By comparison the D7000 provides a more standard 3in, 920k-dot screen that's fixed to the rear.

The Canon features an 18MP CMOS sensor, which is slightly higher resolution than the D7000's 16.2MP offering.

With the launch of Canon's 7D came a new 63-zone, dual-layered iFCL (intelligent Focus, Colour & Luminance) metering sensor that is also inherited by the 60D. The Nikon D7000's equivalent is a brand new offering: a 2,016-pixel RGB metering sensor.

The D7000 also includes the brand new Multi-CAM 4800DX that has a 39-point array of focus points, nine of which are cross-type for enhanced sensitivity in both portrait and landscape mode. By comparison the 60D employs the same system as found in the 50D, offering nine AF points (all cross-type).

The Nikon employs the latest EXPEED 2 image-processing engine and tops out at ISO 25,600, compared to the Canon's DIGIC 4 processor that provides a top-end ISO 12,800.

It's not just stills where both models bestow much of their prowess however: the video modes of the pair are mightily impressive and, for the most part, of a similar specification. Both provide the ability to Full HD 1080p at 24fps (the 60D also has 30 or 25fps options).
Canon 60D vs Nikon D7000 test sample images
Canon 60D vs Nikon D7000 product images gallery