If you're looking for maximum manoeuvrability from a tripod, a ball head will offer the versatile movement you're after. But with so many manufacturers producing different models, it's difficult to know which one is best suited to your needs, so here we've looked at six options, with prices starting from £76.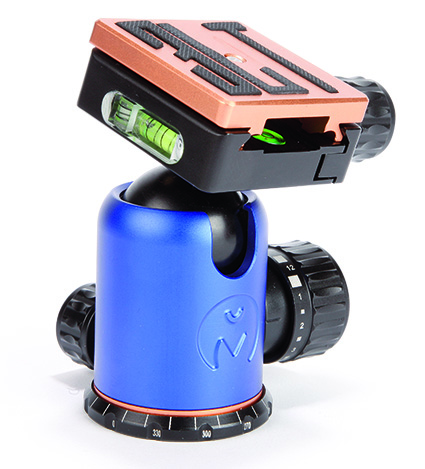 3 Legged Thing AirHed 1 Evolution 2 £120
The AirHed 1 Evolution 2 from 
3 Legged Thing is the lightest tripod ball head in this round-up. Weighing 300g, you could be fooled into thinking the saving in weight has compromised build quality. Thankfully this is not the case. Finished to a very high standard and constructed to withstand a load capacity of up to 30kg, the 3 Legged Thing AirHed 1 comes in black as well as striking metallic blue.
Loosening off the panning lock reveals the head has been designed for video use as well as stills. The panning motion is incredibly smooth and the large locking knob fixes heavy camera/lens combinations in position securely. Although the locking knobs are profiled to make them easier to grip, they could benefit from some rubber to make them easier to grip with gloves on.
The quick-release plate isn't as fast to use as Manfrotto's system, but it is secure. We particularly like the smoothness of the ball head. Mounted to a tripod using a 1/4in thread, there are also three screws on the underside of the head to prevent it working loose on the tripod.

Maximum Load: 30kg
Quick Release Plate: Yes
Weight: 300g
Spirit Level: Yes
Mount Thread: 1/4in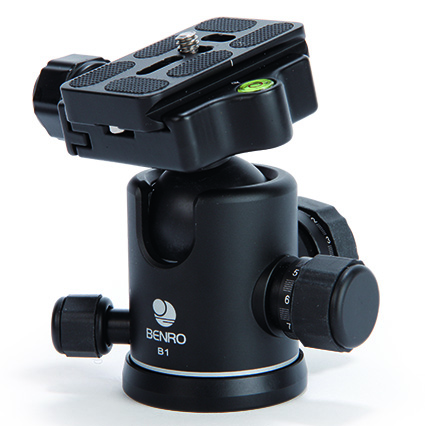 Benro B1+PU50 Aluminium Ball Head £119
Benro's B1+PU50 aluminium ball head has a similar design to the 3LT AirHed, with similar locking knobs and quick-release plate design. Our initial inspection revealed one oversight - the quick-release plate is supplied fixed to the head and can only be taken off and fixed to the camera after a small bolt has been removed with an allen key. This wouldn't be a problem if the allen key was supplied, but it wasn't, so we had to go in search of one.
After this initial issue was overcome, we attached the head to our test tripod via the 1/4in thread and found it offered a pleasing panning motion for recording video. Adding to this, the tripod ball head movement is smooth, but the overall build quality lacks the premium finish of its closest rivals.
The inclusion of a spirit level on the top plate is useful and the rubber on all of the tightening knobs does make them easy to grip. For those who want to pay less, the Benro B1+PU50 provides the basics, but if you pay a few pounds extra you can expect a product that's slightly better finished.

Maximum Load: 12kg
Quick Release Plate: Yes
Weight: 360g
Spirit Level: No
Mount Thread: 1/4 in

www.kenro.co.uk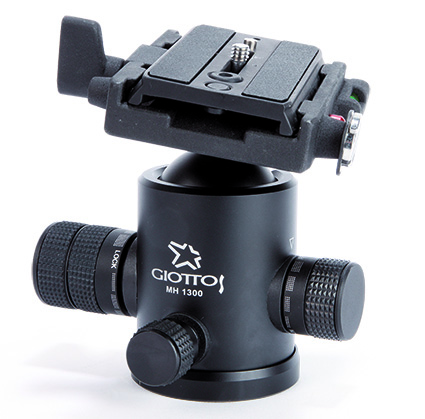 Giottos MH1300-652 Series II Ball Head £76
The Giottos MH1300-652 is one of the largest tripod ball heads in this round-up. Weighing 700g, it has a beefy design and features a substantial base plate for supporting a load of up to 15kg. The quick-release plate uses a belt and braces design to keep a camera and lens combination secure. A plate lock prevents any lateral base plate movement and the safety button stops the plate from being accidentally removed.
Two spirit levels are included and could prove useful if your camera doesn't have an electronic levelling function. The movement of the tripod ball head itself is incredibly smooth after loosening the friction control. Panning from side to side with the friction control lock fully released revealed it has slightly more resistance than the others.
The head is finished to a very high standard, and the twist locks feature rubber grips to make them easier to tighten in cold conditions when wearing gloves. With a 1/4in thread on the base, it'll attach to most tripods, but you will find it does lack securing screws to ensure it never works loose on the tripod.
Maximum Load: 15kg
Quick Release Plate: Yes
Weight: 700g
Spirit Level: Yes
Mount Thread: 1/4in or 3/8in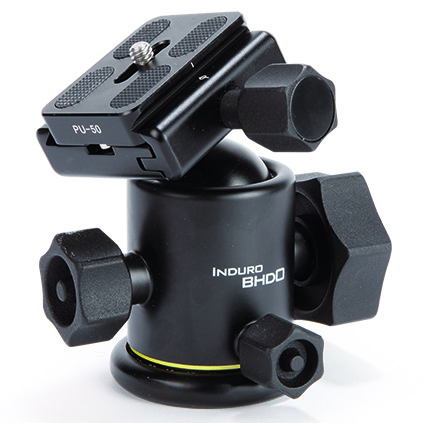 Induro BHD0 Ball Head £134
The Induro BHD0 ball head has a standard design, but rather than using the rounded type of locking knobs, it's fitted with hexagonal ones instead. The main locking knob is large, allowing you to get a good grasp of it when you'd like to tighten and lock the head in position. The only downside of its size is that you can get your index finger caught between the knob and the base of the head itself if you have large fingers.
The plate arrangement is similar to the 3LT and Benro designs. You can slide the plate in from the side if you remove one of two small bolts, but like the Benro head, no allen key is supplied to remove them, which is frustrating. To mount your camera quickly you need to loosen the top plate knob, slot in your camera and tighten it up again.
The tripod ball head movement is very fluid, but like the Giottos head, the panning movement has a reasonable amount of resistance. The allen key that's used to secure the plate to the camera was a poor fit, but other than that the finish is good, but is no match to some of its rivals.

Maximum Load: 8kg
Quick Release Plate: Yes
Weight: 400g
Spirit Level: Yes
Mount Thread: 1/4in

www.indurogear.com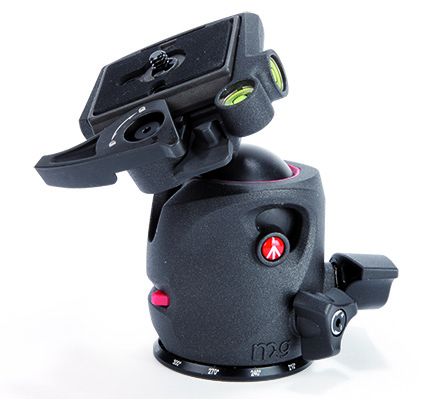 Manfrotto MH054M0-Q2 £139
Constructed from lightweight magnesium, the Manfrotto MH054MO-Q2 ball head features a muscular build quality with a thickset design. Weighing 610g, the head has a premium feel in the hand and features an excellent safety mechanism to prevent a camera accidently being released. After removing a camera, the lock remains in an open position, making it possible to re-insert it again, with a small amount of downwards pressure activating the lock automatically. This locking release design is superb and it means that no additional tightening is required. The ball head operates freely and there's friction control should you need it. The portrait angle selector is useful if you'd like to limit how far the ball head tilts in the portrait orientation and there are two inbuilt spirit levels. As for the locks, they're very positive to use. The profile of the ball lock lets you lock it tightly with your thumb and index finger. Very importantly, it's a tripod ball head that feels up to any task and can't be faulted in any way.

Maximum Load: 12kg
Quick Release Plate: Yes
Weight: 610g
Spirit Level: Yes
Mount Thread: 1/4in

www.manfrotto.com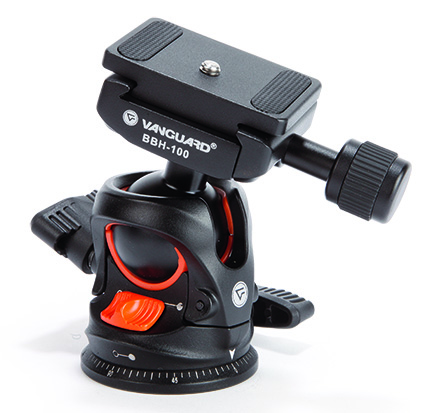 Vanguard BBH-100 £135
This Vanguard BBH-100 features the arca type of quick-release plate, with a safety measure to prevent the camera sliding off the head accidentally. To remove the camera, you unscrew the release plate lock using the rubberised knob and then angle the camera sideways just a tad. To tighten the quick-release plate to the camera, or remove it, we found that a 20p coin was best to use, or you could use the supplied allen key.
The Vanguard BBH-100 also has an innovative rapid levelling system. Beneath the ball you'll find a switch. When this is set to the right, you can guide the camera to be perfectly level with the base. If you prefer to use a spirit level, the Vanguard BBH-100 also has two on separate axes. Though the head movement is smooth, we had to apply slightly more effort to move it into the portrait orientation, but this is a very minor point. The build of the head is first class, with large, well-profiled locking screws making it quick to work with, and it has 1/4in or 3/8in threads at the base, meaning it can be attached to virtually any tripod.

Maximum Load: 10kg
Quick Release Plate: Yes
Weight: 450g
Spirit Level: Yes
Mount Thread: 1/4in or 3/8in

www.vanguardworld.com