Image: The full Visilux StudioKit 180, including a carry-bag

If you've thought about getting together your own studio lighting kit but weren't sure where to start, Kenro and Reflecta may have provided an answer with a new studio kit aimed at photographers taking their first steps into home lighting.
The Visilux StudioKit from Reflecta includes three compact 180W flash lights, three extendable 220cm light stands.

Also in the kit is a 70x50cm softbox with an intermediate diffuser. Two 84cm umbrellas come with the kit, one translucent white, the other silver/reflective, and a radio trigger is included to cut down on cables.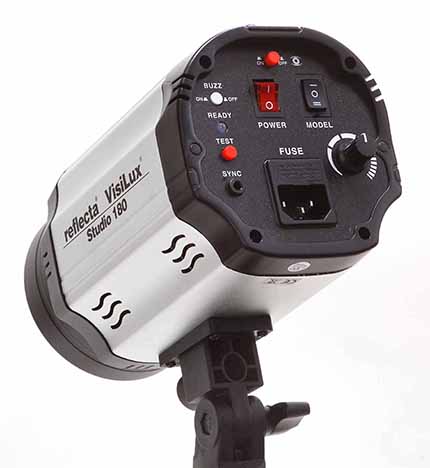 Image: The rear control panel of one of the StudioKit's light units

Previously known for its projectors and its more recent range of desktop film scanners, Reflecta is making its first foray into studio lighting with this new kit. We'll have to see if it measures up to the competition.

The Reflecta Visilux StudioKit 180 is available now with a retail price of £477.60. To find out more, visit www.kenro.co.uk.

Full technical specs below:
Flash Output: 180Ws
Guide Number (1m/ISO100): 38
Output: stepless 1/32 up to 1/1
Recycling time: 0.5 to 3 seconds
Modeling lamp: 50W
Max. Sensor Distance: 15m
Colour Temperature: 5500 K +/- 200K
Synchro-Voltage: 5 V
Trigger Method: Synchro Cable / Sensor / Test Button / Remote Control
Dimension Studio Flash: approx. 20 (L) x 11 (W) x 11 (H) cm
Weight Studio Flash: approx. 0.90 kg
Height Light Stand: 220cm
Weight Light Stand: 0.90 kg
Dimension Bag: 74 (L) x 28 (H) x 25 (W) cm
Total Weight of Set incl. Bag: 10.90 kg
Power Supply: 220 Volt