What Digital Camera July 2014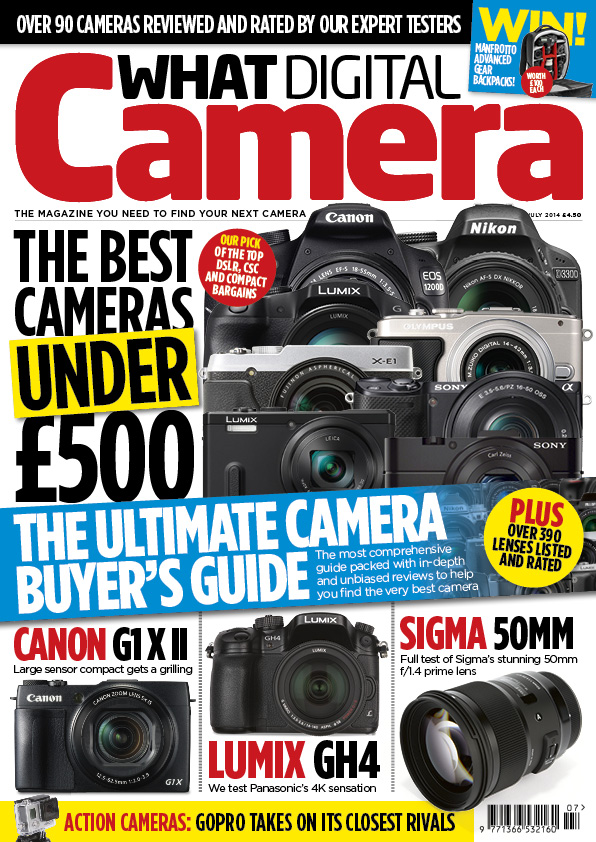 On sale: Fri, 6 Jun 2014
Incoming:
We look at the latest camera releases.

Canon PowerShot G1 X Mark II:
Full test of Canon's flagship compact. The Canon PowerShot G1 X Mark II looks to build upon the performance and feature set of its predecessor at the top of the manufacturer's compact camera line-up.

The Best Cameras You Can Buy for Under £500:
Our guide to picking up a bargain. We all have to keep an eye on our finances these days, but even if you are
on a tight budget there are many excellent DSLRs, CSCs and compacts out there. Over 6 pages we look at a range of the best options less than £500 - Canon 1200D, Nikon D3300, Olympus E-PL5, Panasonic G6, Sony NEX-5T, Fuji X-E1, Canon PowerShot G16 and Panasonic TZ60.

Action Camera round-up:
GoPro comes face-to-face with its rivals. Action cams have played a big role in the decline of the camcorder... they are smaller, lighter and can record Full HD video in almost any situation. We've tested six to find out if there is a better bet than choosing a GoPro.

Panasonic Lumix GH4:
It may be the first mirrorless camera to shoot 4K video, but the Panasonic Lumix DMC-GH4 is facing some tough competition in a difficult market. Has it done enough and is this the start of the 4K revolution?

Essential Guide:
Understand the essentials of flash. Using your flash effectively will help you to grow your photography skills immeasurably. We take a look at the different types of flash on the market and how to make the best use of them...

Sigma 50mm f/1.4 DG HSM | A lens review:
We test the latest prime lens from Sigma. Is it the portrait lens of all portrait lenses?

Zeiss Touit Planar 32mm f/1.8 T* lens review:
We test this fast standard lens for Fujifilm X-series cameras.

Help:
We answer your photo-related queries.

Competition:
You could win one of 7 Manfrotto Advanced Gear Backpacks, worth £99 each!

BuyingGuide:
Read 63 pages of reviews of the top cameras on the market to find the best to fit your budget.

DSLR and CSC listing:
All the system cameras on the market, with ratings.

Lens listing:
All the lenses on the market, with ratings.