What Digital Camera June 2014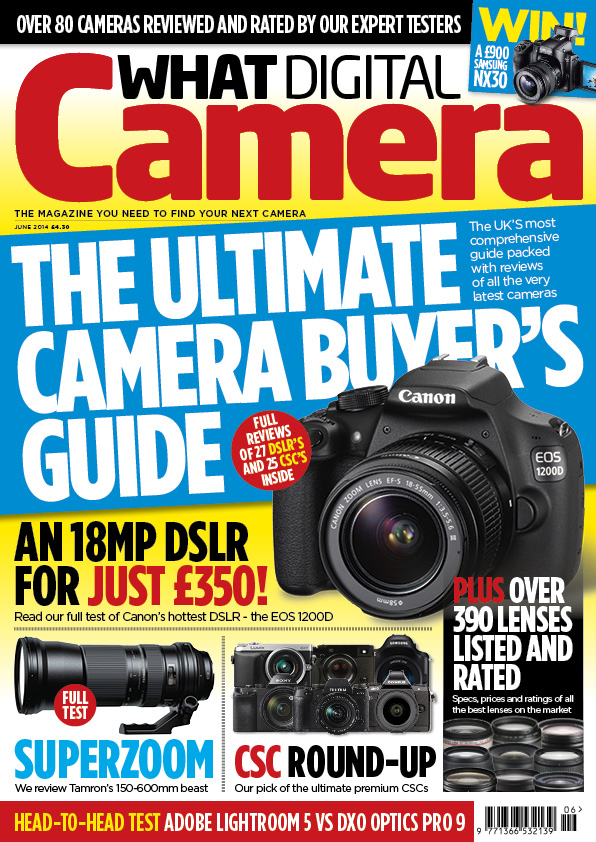 On sale: Fri, 9 May 2014
Incoming:
A glance at the latest camera and photo gear releases.

Canon EOS 1200D Full test: Is this the best DSLR for £350? Canon's answer to the impressively speeced Nikon D3300 is the new EOS 1200D, the successor to the popular 1100D that has served Canon well for more than three years. We find out if this entry level DSLR is for you.

My Digital Camera.
Readers' verdict on the kit they use.

SOFTWARE HEAD TO HEAD: DxO Optics Pro 9 vs Adobe Lightroom 5:
Our most comprehensive review of two of the best raw converters for photo editing. DxO Optics Pro 9 and Adobe Lightroom 5 go head to head.

Premium CSC Round-up:
Our pick of the best Compact System Camera models that money can buy.

Sony Alpha 6000:
The Sony A6000 boasts a class-leading AF performance and an impressive APS-C sensor, continuing the development of Sony CSCs from NEX to Alpha models. Does the A6000 meet its promises?

Tamron 150-600mm Full test:
Is this the zoom of all zooms? We test the Tamron 150-600mm telephoto zoom that is set to steal some of the limelight from the excellent Sigma 150-500mm.

Help:
We answer your photo-related queries.

Competition:
Your chance to win a fantastic Samsung NX30 interchangeable-lens camera, worth £900!

The Buyer's Guide:
Read 58 pages of reviews of the top cameras on the market to find the best to fit your budget.

Lens Listing:
We list all the best lenses for your camera system so you know which to buy.