What Digital Camera January 2014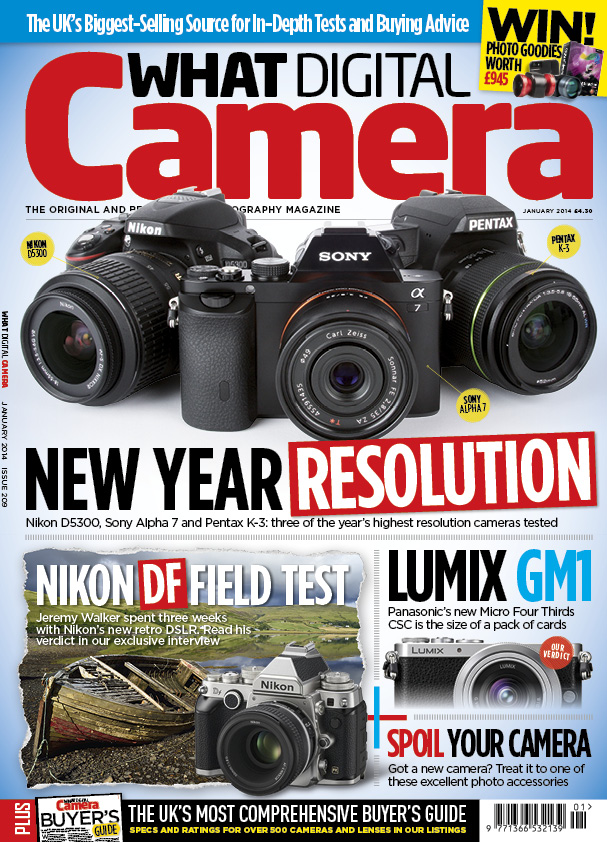 On sale: Fri, 20 Dec 2013
FEATURES:

Spoil Your Camera:
How can you get the best from your camera? We show you the most useful accessories to improve your images.

Software Round-up.
On a budget and looking for editing software? We round up six under £120.

Pro Test: Nikon Df.
Top pro Jeremy Walker shares his first impressions of the Nikon Df after spending three weeks using it.

Guide To Batteries.
Essential Guide: It's all about the power.

Field Test: Canon 200-400mm f/4L.
We took Canon's pro lens for a spin.

My Digital Camera.
We showcase images from two more readers.

EQUIPMENT TESTS:

Sony Alpha 7.
The 24MP Sony A7 is the first full frame CSC: could it mean the end for DSLRs?

Nikon D5300.
Is the D5300 a minor upgrade or a significant one? We reveal all in our full review.

Panasonic Lumix GM1.
A diminutive CSC model: our verdict.

Pentax K-3.
Find out why we were so impressed by this enthusiast DSLR.

Sony NEX-5T.
Sony's new mid-range CSC reviewed.

Lens review.
Nikon 80-400mm tested.

Lens review.
Fuji 23mm lens tested.

Accessories.
Manfrotto tripod and much more reviewed.

REGULARS:

Live View.
What we would like to see next year.

Incoming...
Hot products coming soon!

Books.
A selection of books reviewed.

Opening Shot.
...taken with Canon's new 200-400mm f/4L pro monster lens.

Competition.
Win some amazing smartphone accessories worth £945!

Long Termers.
Long term tests by WDC team members.

Help.
All your technical queries answered.

BUYING GUIDE.
Comprehensive listing of cameras and lenses, including ratings.