What Digital Camera December 2013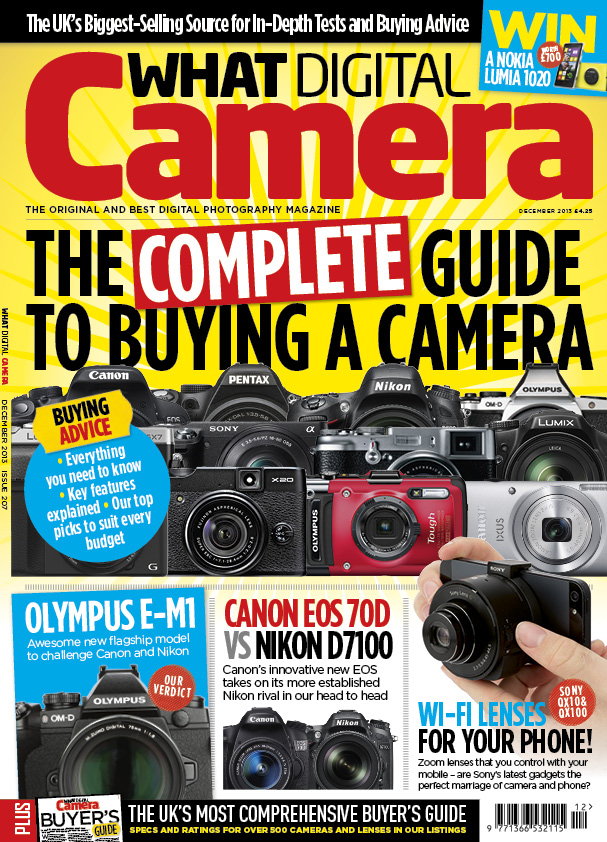 On sale: Fri, 25 Oct 2013
FEATURES:

The Complete Guide to Buying a Camera.
Which is the best digital camera? It all depends what your priorities are, and what kind of photography you do. Here you will find all the essential buying advice you'll need.

Compact, DSLR or CSC?
With more choice than ever before, we take a look at the key camera categories and give you our picks, with budgets from under £100 to over £1,000 catered for, in this 8-page feature.

The Complete Guide to Buying a Lens.
Whether you are thinking of buying a DSLR or CSC or already have one, the lenses you invest in can open up a whole new world of photographic possibilities. Read our guide to find out more...

TRIED & TESTED:

Olympus OM-D E-M1.
Olympus's new flagship system camera is also a direct replacement to its most recent DSLR, the E-5. We put it through its paces to see just how good it is.

Canon EOS 70D vs Nikon D7100 - head to head.
Which is the best enthusiast DSLR available today? With the arrival of the EOS 70D, we pit it against our current favourite, the Nikon D7100. Which one comes out on top?

Sony QX10 & QX100.
A completely new concept ? a lens with its own sensor that can attach to your smartphone and offer a host of improved features and a Wi-fi feed.

Sony A3000.
We test possibly the most affordable interchangeable lens camera yet.

REGULARS:

Live View.
We look at the new Pentax K-3, Nikon D610 and much more.

Books.
A selection of books reviewed.

Opening Shot.
Two stunning images: from the Astronomy Photographer of the Year and the Wildlife Photographer of the Year competitions.

Competition.
Win a Nokia Lumia 1020 smartphone plus handset and camera accessory bundle, worth £700!

Help.
Essential buying advice with all your queries answered.

In the Bag.
We peek into a photographer's kit bag.

Buying Guide.
Comprehensive listing of cameras and lenses, together with our ratings.