What Digital Camera November 2013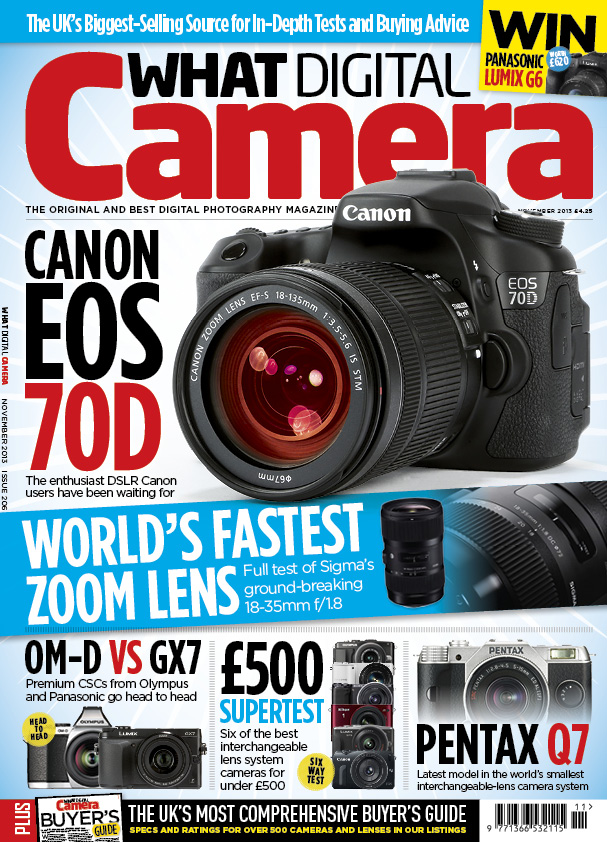 On sale: Fri, 27 Sep 2013
FEATURES:

£500 Supertest.
There is an abundance of small, lightweight, interchangeable-lens cameras fighting for your attention. We group test six CSCs under £500: the Canon EOS M, Nikon 1 J1, Olympus E-PL5, Panasonic GF6, Samsung NX2000 and Sony NEX-5R, to see which of them most deserves your cash.

Secondhand Classic.
Two readers tell us why they cannot live without their Sigma 10-20mm lens.

Why I Love...
Top pro Jamie Harrison on why his Lensbaby Composer is indispensable for portraiture.

My Digital Camera.
Another three readers showcase thieir images - Tom Harvey, Darron Matthews and Maxime Dugenet

EQUIPMENT TESTS:

Canon EOS 70D
We test the enthusiast DSLR that Canon users have been waiting for.

Panasonic Lumix GX7 vs Olympus OM-D E-M5
We pit these two impresssive high-end CSC cameras head to head.

Pentax Q7
New ultra-compact system camera.

Panasonic FZ72
Bridge camera with a 60x zoom lens.

Sigma 18-35mm f/1.8
The world's fastest zoom lens tested.

Fujifilm 55-200 f/3.5-4.8
Tele zoom for Fuji X series cameras.

Accessories
We check out a selection of accessories.

REGULARS:

Live View
Olympus OM-D E-M1 unveiled and more.

Books
A selection of books reviewed.

Opening Shot
Two stunning Opening Shot images.

Long Term Tests update
How are the WDC reviewers getting on?

Competition
Your chance to win a superb Panasonic G6!

Help
Your buying queries answered.

In the Bag
We peek into another photographer's kit bag...

PLUS the UK's most comprehensive Buying Guide, with listings and ratings, AND A FREE 16-PAGE GUIDE to shooting in both natural light and artificial light!