What Digital Camera Christmas 2012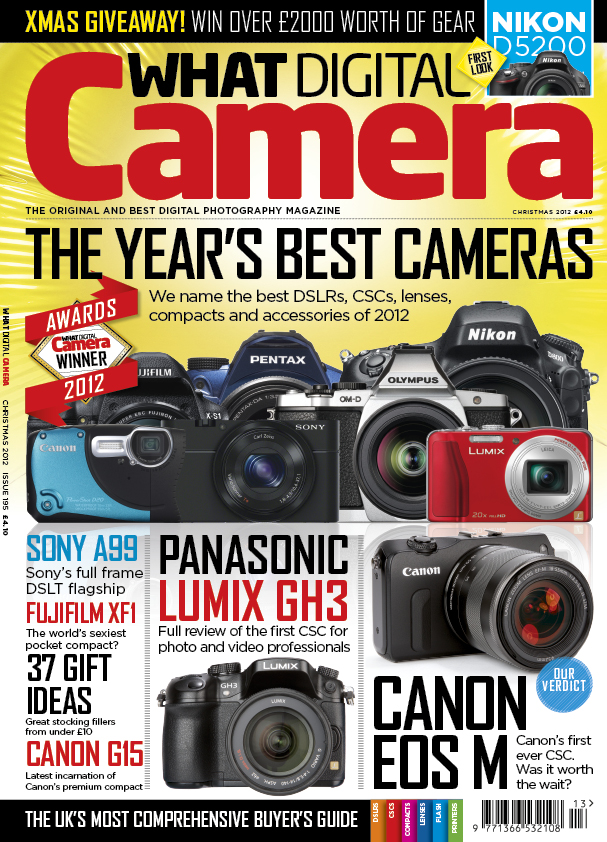 On sale: Fri, 23 Nov 2012
EQUIPMENT TESTS:

Canon EOS M
Is the first CSC model from Canon great or is it too little too late?

Sony Alpha 99
Does Sony's long-awaited flagship model make the grade?

Panasonic GH3
Panasonic?s impressive new flagship CSC looks set to rival DSLRS

Canon G15
We find out how the 12MP G15 performs

Fujifilm XF1
With advanced technology, this enthusiast compact looks a bit special

Lens reviews
Full-page reviews of the Canon EF 24-70mm f/2.8L II USM and the Nikon 24-85mm f/3.5-4.5G ED-IF VR

FEATURES:

Best of 2012
We present the WDC 2012 Awards for the best DSLRs, Compact System cameras, compacts, lenses and more...

Christmas Gift Ideas
Still need to sort presents? Our guide to perfect photo gifts will suit all tastes. After you've digested the info in our six-page feature, then turn to page 98 and you could win a selection of the items!

Books of the Year
We select some top books

Images of the Year
A selection of the best images that have won prestigious awards this year

Printing services
Create unique presents - we round up six personalised photo gift websites

WDC Christmas wish lists
What the WDC team members would like to see under our own Xmas trees...

Good Service Awards
Vote for the retailer that has given you the best service!

REGULARS:

Live View
First looks of the Nikon D5200 and V2

Incoming...
Our picks of the desirable new gadgets

Opening Shots
Our picks of the winning images from the Landscape Photographer of the Year competition

Subscription offer
Subscribe to WDC for only £15.99! Plus you will get the chance of a free holiday!

Long Term tests update
Updates from the WDC team members

Competition
Win some great kit from our Gift ideas wish list

Comment
Editor's Review of the Year

BUYER'S GUIDE
Comprehensive listing, with ratings, of DSLRs, CSCs, compacts, Lenses...