What Digital Camera September 2012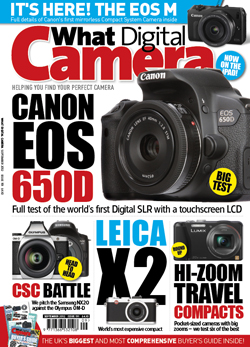 On sale: Fri, 3 Aug 2012
EQUIPMENT REVIEWS:

Canon EOS 650D
Canon's upper entry-level DSLR gets tested

Head to Head
The Samsung NX20 goes up against the Olympus OM-D EM-5

Leica X2
Its four-figure price-tag may be steep, but is it justified?

GROUP TEST: Fifty-fifty backpacks
See what we make of these six fifty-fifty bags

Travel compacts round-up
Six pocket-friendly superzoom compacts on test

Macbook Pro 15in with Retina Display
Just a stunning screen or is there more to the new Macbook?

Accessories
We try out some of the latest photography accessories

Micro Four Thirds lenses: head to head
Panasonic 45-200mm f/4-5.6 vs. Panasonic 45-175mm f/4-5.6

Lenses: Old vs. New
Nikon 85mm f/1.8 primes - we pit the D-series lens against the G-series

Lens reviews
Samsung NX 18-200mm f/3.5-6.3 and Nikon 35mm f/1.4G both on test

Compact camera reviews
Nikon S9300, Pentax LS465, GE X500 and Nikon S4300

Books
A selection of books and apps

FEATURES:

Photokina preview
We look at the expected announcements from the manufacturers

Field test: Sigma 105mm f/2.8 EX DG OS Macro
Top pro Dave Kai-Piper takes Sigma's 105mm out for a spin

REGULARS:

LIVE VIEW
Canon EOS M, plus new releases from Panasonic and Samsung

Letters
Your views and also what you can expect next month

Opening Shots
Steve Bloom's stunning capture of a herd of zebras, plus our Picopix competition reader winning image and runners-up

Help File!
Kit-buying advice and your imaging problems answered

My Digital Camera
Two readers share some of their best images

THE BUYERS GUIDE
If you're looking to buy some new kit, check out the facts here

COMPETITION
Your chance to win one of three Booq Python camera bags worth £215 each!